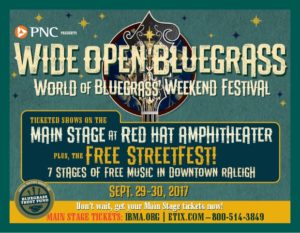 Organizers of this year's International Bluegrass Music Association (IBMA) World of Bluegrass, announced the final lineup of performers for Wide Open Bluegrass. Wide Open Bluegrass is the weekend festival that takes place during the five-day World of Bluegrass event. Sponsored by Chiesi USA, and PNC Bank, the event takes place September 26-30, in Raleigh, North Carolina.
Performers at Raleigh's Red Hat Amphitheater, on the ticketed Wide Open Main Stage September 29th & 30th, include Steep Canyon Rangers featuring Steve Martin; Jerry Douglas and Sam Bush tribute to The Country Gentlemen featuring Jon Randall, Mark Schatz, and Charlie Cushman; The Kruger Brothers with Kontras Quartet; Chatham County Line; and Molly Tuttle.
These performers join previously announced artists, The Infamous Stringdusters present the Wide Open Jam; Bela Fleck & Abigail Washburn; Hot Rize; The Travelin' McCourys; 2017 Grammy winner The O'Connor Band featuring Mark O'Connor; Doyle Lawson & Quicksilver; Balsam Range; Lonesome River Band (celebrating their 35th anniversary as a band); Sierra Hull; Sister Sadie; Flatt Lonesome; and the 50th Anniversary of Japanese band Bluegrass 45, featuring the band's original lineup. Artists and schedules are subject to change.
Steve Martin's musical career is an extension of the storytelling impulse that drove his work as a comedian, an actor, a screenwriter, a playwright, an essayist, and a novelist. The Long-Awaited Album, his newest collaboration with the Grammy-winning North Carolina–based band, the Steep Canyon Rangers, is full of stories that mix humor and melancholy, whimsy and realism, rich characters and concrete details. And lots of banjos.
Steve Martin and Steep Canyon Rangers' performance at IBMA will be the only live collaboration this year in support of their brand new tunes and is exclusive to IBMA's Wide Open Bluegrass. The Long-Awaited Album, available September 22nd on Rounder Records, shows Martin & SCR continuing to nudge the boundaries of the genre, respectfully but irreverently, which has established them as some of the most popular—and, in fact, among the finest—bluegrass musicians working today. Steep Canyon Rangers and Steve Martin are thrilled to host their album release celebration on Saturday Sept 30th, 2017 at Wide Open Bluegrass – in the state where it all began for them! The Long-Awaited Album is available for pre-order now.
Wide Open Bluegrass is the principal fundraiser for the Bluegrass Trust Fund which provides direct financial assistance to bluegrass artists and other industry professionals in times of emergency need.
"It seems crazy we can announce the addition of these incredible performers to an already-stellar lineup on the Main Stage of IBMA's Wide Open Bluegrass Festival, but we are! This Main Stage at the Red Hat Amphitheater will have performances that bluegrass fans cannot see anywhere else," said Paul Schiminger, Executive Director of the International Bluegrass Music Association. "Furthermore, this is an important way for fans to help the bluegrass community. Up to 50% of the net proceeds from ticket sales goes to the Bluegrass Trust Fund, a vital 501 (c)(3) organization that provides emergency financial assistance to bluegrass professionals when they need it most. What can be better than enjoying a truly unique weekend of music while helping those who work so hard to make that music?"
"Each day at Red Hat Amphitheater, fans will be treated to exclusive live show experiences," said William Lewis, executive director of PineCone, the Piedmont Council of Traditional Music, and producer of the festival. "The Steep Canyon Rangers and Steve Martin will unite one night only to perform brand new music. Jerry Douglas and Sam Bush are cooking up a very special show, just for IBMA, paying homage to the originators of progressive bluegrass – The Country Gentlemen. With other bands marking important anniversaries, showcasing new material, and inviting guests to sit in and jam, these unique live music experiences help create indelible memories for all involved, both in the audience and on stage."