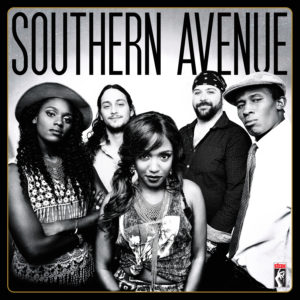 Southern Avenue, a fiery soul-steeped Memphis quintet  that embodies its home city's soul, blues, and gospel traditions while adding a youthful spirit and dynamic energy all their own, have been nominated for two Blues Blast awards in the categories of New Artist Debut Album and Sean Costello Rising Star Award.
Signed to the famed Stax Records, a division of Concord Music Group, Southern Avenue's recently released self-titled debut has already reached #1 on the iTunes Blues chart, #6 on the Billboard Blues chart and is a Top 40 album on Americana radio stations from coast to coast. American Blues Scene summed up our review of their self-titled album this way:
"What we have here, is a young, yet seasoned group of artists, who took everything Memphis has to give, rubbed their own magic on it, and are delivering it to us in a single serving. It's not blues, soul, Gospel or R&B. It's all of the above, blended in such a way to create its very own category. We've said before, 'If Memphis music is a genre, this is it!' We stand, steadfast, by that statement."
Southern Avenue's diverse skills come together organically on the young Memphis quintet's self-titled debut, released on February 24th, 2017 via Stax Records. Produced by Kevin Houston (North Mississippi Allstars, Lucero, Patty Griffin), the 10-song album features guest appearances from Luther Dickinson of the North Mississippi Allstars, and trumpeter Marc Franklin of the Bo-Keys. But it's Southern Avenue's own musical chemistry that drives such potent anthems as "Don't Give Up," "It's Gonna Be Alright," and "Peace Will Come."
Southern Avenue encompasses Memphis-born, church-bred sisters Tierinii and Tikyra Jackson, respectively a soulful, charismatic singer and a subtle, powerful drummer; guitarist Ori Naftaly, an Israeli-born blues disciple who first came to America as an acclaimed solo artist; versatile jazz-inspired bassist Daniel McKee; and keyboardist Jeremy Powell, an early alumnus of Stax's legendary music academy.
The Blues Blast Music Awards are presented by Blues Blast Magazine, the largest free weekly internet Blues magazine with over 36,000 Blues fan subscribers located in all 50 states and in more than 90 countries. Check here for a complete list of nominees.