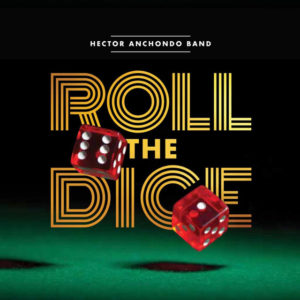 The Hector Anchondo Band is all over the charts with their latest release, Roll the Dice. Self-released on April 2nd, the album is drawing some much deserved praise. This is no overnight success story.
Anchondo grew up on a Missouri farm, taking in all the influences he could. Old-time blues, bluegrass, roots, and Latino music formed the soundtrack of his life. When his contemporaries were heading off to college, he headed straight to Omaha, Nebraska, diving head first into the music scene. It was an all-or-nothing leap that is paying off in big ways.
From jam nights in the Big O, to a latin/reggae band, and finally making the switch to his first love, the blues, Anchondo has done it all the hard way. Putting off things that most of us consider normal, such as a family, he all but lived in his van for 10 years. Touring non-stop, his EP Kicking Up Dust attracted some attention. The follow-up, Young Guns, also did well, and his adopted home city sent the band to the IBC, twice.
Now comes Roll the Dice. Ten tracks of fresh blues done in a style only Anchondo could provide. With the exception of "Black Magic Woman," all the songs were penned by Hector. The flamenco opening to the Peter Green classic is an instant attention getter. The entire cut has a Spanish flavor nodding to Carlos Santana's iconic cover, and then some. There's a nice harmonica solo from Justin Shexlton, that's right on time, and the rhythmic guitar meshes perfectly with the solid bottom of Josh Lund's bass, Khayman Winfield's drums, and the percussion of Matt Russo.
From the very beginning, Roll the Dice grabbed us firmly by the earholes, and never let go. A true blue opener, "Dig You Baby," has all the essentials. Wicked harmonica, screaming guitar, and some powerhouse vocals provided by Kansas City blues priestess, Amanda Fish. Anchondo's voice is robust in its own right, and the duet vocals blew us away. Adding to the facility were the burly, and cogent horns of Eric Stark, and Kenny Glover.
"Masquerade" has a solid Chicago 12-bar sound with several vocal fills from Anchondo, as well as well-placed barks and howls. The title track comes in hard and ballsy, adding some welcome funk to the mix. "Face it Down," has an early rock & roll feel, while the rockabilly influence is smeared all over "That's How it All Goes." "Jump in the Water," is smooth as butter, while "On Your Mic, Get Set, Sing," brings a taste of classic country, the way Freddy Fender brought it.
There are a couple of sweet ballads included as well. "Here's To Me Giving Up," has a jazzy, BB King vibe that showcases Hector's guitar beautifully. With the addition of the background vocals, this one would have been a perfect last song on prom night. "Sometimes Being Alone Feels Right," is lyrically like the blues on toast. A combination of heartache, realization, and redemption, it definitely ties with "Dig You Baby," for our personal favorite.
Roll the Dice has been on the streets for three and a half months now, and with its chart success, we can't imagine anyone not having a copy. On the outside chance you don't have it yet, get it immediately. By all means, pass go to your local record shop and Roll the Dice.
Artist: Hector Anchondo Band
Title: Roll the Dice
Label: Self-released
Release Date: April 2nd, 2017
Running Time: 49:42