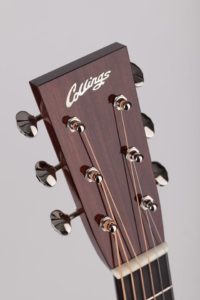 Collings guitars became the legend they are now through word of mouth. As everyone knows, when you build a great guitar, one that is well designed and well built, sounds good, looks good, and plays like a dream, they sell themselves. So it has been with the guitars Bill Collings has been building for decades now in Austin, Texas.
Bill is gone now. He was 69 years old. A statement on the Collings Guitars.com homepage reads:
"We lost our dear friend and mentor Bill Collings yesterday. He was the amazingly creative force behind Collings Guitars for over 40 years. Through his unique and innate understanding of how things work, and how to make things work better, he set the bar in our industry and touched many lives in the process.
"His skill and incredible sense of design were not just limited to working with wood, but were also obvious in his passion for building hot rods. To Bill, the design and execution of elegant form and function were what mattered most. Perhaps even more exceptional than his ability to craft some of the finest instruments in the world, was his ability to teach and inspire. He created a quality-centered culture that will carry on to honor his life's work and legacy. He was loved by many and will be greatly missed. Our hearts are with his family."
Collings originally founded his company in 1973, and after building several guitars basically at and on his kitchen table, word spread of the quality of these hand built instruments. Early on, he built guitars for Lyle Lovett and Rick Gordon who were building their reputations at that time. He would build guitars in Houston, and later he would build 24 guitars for the renown collector and seller of vintage instruments George Gruhn. Again, as these instruments (with the Gruhn name on them) found their way into the wild and musicians heard and played them, Collings' reputation was again enhanced.
Eventually, Collings opened his own shop just outside Austin. By this time he counted Brian May, Joni Mitchell, and Pete Townshend among his clients. As time went on and his client base and general sales grew, he expanded his business. Collings also began offering other instruments of quality such as mandolins, and later, electric guitars, and ukuleles. As always, the design and quality of these instruments was exceptional.
Bill Collings will be deeply missed by friends, family, and music lovers around the world. While he has left us, his love lives on every time someone plays one of his instruments, whether quietly, alone in their room, or onstage in front of thousands of fans.