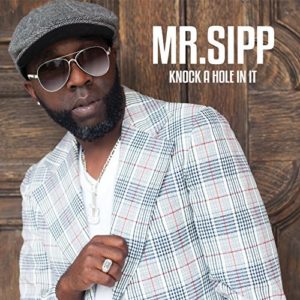 Proud Mississippi-born blues artist Mr. Sipp (Castro Coleman), aka "The Mississippi Blues Child," comes out swinging on his third solo album, named after his personal catchphrase, Knock A Hole In It. His blues career has been nothing but up since he entered the scene in 2012. After winning the International Blues Challenge and the Bobby Rush Entertainer of the Year Award by the Jus' Blues Foundation in 2014 he began production on his second album. In 2015 he released his sophomore album, The Mississippi Blues Child. With Knock A Hole In It, he is certainly not a blues child anymore. His sound is full and mature, and the range displayed on this album is impressive.
Mr. Sipp has produced a stellar album with high production quality. The mixing perfectly balances his soulful, honest vocals and talented guitar work and percussion. Individual songs are polished to a shine that allows each to stand as strong singles, as well as part of a good album. The general sound of the album is upbeat and entertaining, the kind of roadhouse boogie blues we'd want to get out and dance to. As a change of pace, there are also deeply personal ballads, love letters to music itself.
Several tracks stood out to us, catching our attention on the initial listen and only cementing themselves as favorites throughout the subsequent repeats. First and foremost, Mr. Sipp's lead track, "Knock A Hole In It." It's not difficult to see the idea he's centered this collection around. This first track is a great way for the album to start; not too in-your-face but still extremely enjoyable, with a foot-tapping beat, catchy hook, and interesting, biographical lyrics. The next winning track is a ballad, "Sea of Love." We loved the warm vocals and the full, rich backing of instrumentals here. Finally, we would be remiss without mentioning Mr. Sipp's courageous take on the album closer, Jimi Hendrix's "Little Wing." Covering "Little Wing" is almost a rite of passage for aspiring guitar journeymen. He acquits himself nicely, and wraps up the album leaving us with a warm feeling, as if we just watched him perform live.
We can't get enough of Mr. Sipp's honest lyrics, rich vocals, and genuine instrumental backing. While staying true to the classic blues influences he has managed to put a modern spin on the genre, marking it as his own and ushering a whole new generation to a love of the blues. For those looking to widen their music horizons into the world of blues, Mr. Sipp's Knock A Hole In It is a great way to begin. For those that already love the blues, this album will grow that love still more.
Knock A Hole In It by Mr. Sipp
Tracks:13
Label:Malaco Records
Run Time: 1:04:50