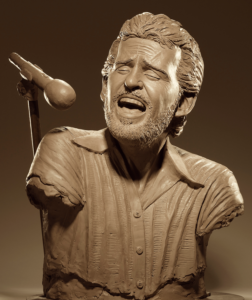 Music paragon, Levon Helm was born in Elaine, Arkansas. He grew up in Marvell, a stone's throw from the KFFA studios in Helena. There, he would sneak in to listen to Sonny Boy Williamson, and his drummer, James "Peck" Curtis. A performance by Bill Monroe, convinced the youngster to become a musician at the age of six. He began playing guitar at age eight, and by the age of 12 was playing the local circuit with his sister Linda on gut-bucket bass.
At 17, Helm joined the Hawks, the backing band for rockabilly star, Ronnie Hawkins. After that it was backing Bob Dylan, becoming a driving force in The Band. Post Last Waltz, he had a successful career as a solo artist, author, and actor. When he died at the age of 71, he had left an indelible mark on the American music lexicon.
Helm had been adopted by the hamlet of Woodstock, New York, where he is buried, and where his studio, The Barn still stands. Now, his lifelong friends, and family want the world to know where he, and all that he encompassed, came from. To that end, a labor of love was begun by the group to honor Levon's legacy, and his gift of music, in his hometown of Marvell.
Dubbed the Levon Helm Memorial Project, the plan began to take shape when his actual childhood home was donated, and eventually moved.  Originally located in Turkey Scratch, across from the A.B. Thompson store, Levon's boyhood home has been permanently relocated to downtown Marvell, (8 miles away) where it is more easily accessible from its once remote location. Here, visitors can easily access it just two blocks off Hwy. 49. Soon they will be able to take a tour, once it's restored to its near original state. While a restoration of the house was obviously part of the plan, it was decided that an original commissioned piece of art was needed to formally mark his legacy in the Delta town in which he was reared.
The most obvious choice to create a bronze bust of Levon was Arkansas native, and nationally recognized artist and sculptor, Kevin Kresse. With input from friends and family, Kresse immediately began working on a clay sculpture of Levon, which is now complete and awaiting the funds for the bronzing and permanent placement downtown.
An online fundraiser was begun on July 7th, to help raise the needed funds to complete, and place, the bronze memorial. Any funds raised above the goal of $25,000 will be used to restore the home.
Marvell is where Helm grew up. It's where he worked the family cotton farm, learned his love of music, and was exposed to all the musical influences of the Arkansas delta. This is also where he forged lifelong friendships with people like C.W. Gatlin, Mary Cavett and Annalee Amsden, who would go on to be immortalized in The Band's song, "The Weight."
These friends, along with Helm's daughter, Amy, and others who knew and loved him, joined together to create the permanent tribute. Their mission is to not only memorialize him in the place that created and nurtured his gifts, but to let the music of the Delta continue to play on, and inspire future generations of artists who may spring from this uniquely rich and fertile artistic landscape.