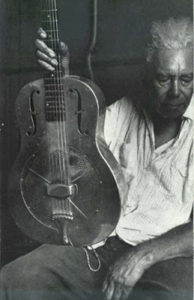 In the hustle and bustle of today's lightning paced world, it seems at times as though so much of our history is disappearing. Each day we find another piece of our memories, our history, our landmarks, our way of life has disappeared, slipping beneath the waves of apathy, abandonment and disrepair, development, or just blatant disregard.
Now and then though, we are fortunate enough to reach beneath the waves of this abyss and pull something back from the slow death of indifference.
The Mt. Zion Memorial Fund is one such rescuer. In a world where life struggles to keep up with itself, and the past seems to be disregarded and disrespected more and more, they go the extra mile to bring back, restore and reaffirm a history and legacy that otherwise would be gone forever.
The beginnings of this organization were planted long ago when vintage guitar dealer Raymond "Skip" Henderson of New Jersey was urged to visit the Delta Blues Museum in Clarksdale by none other than Billy Gibbons.
Executive Director  T. DeWayne Moore, who officially took over from Henderson in 2014 talks of those days when the seed was planted. "Billy Gibbons was Skip's client. He was a '50s guitar dealer in New Jersey. He had a store there called City Lights, and Billy Gibbons used to get guitars from him. He just suggested Skip check out the blues museum in Clarksdale in about '79. It really didn't have a lot of visitors until Billy Gibbons started helping attract people there.
"Anyway – Skip took his advice and came down, and he was sort of swallowed up by Mississippi. Not only the mythology and the history of blues music but also the poverty that he saw. He wanted to create something that would be a legal conduit to return some of the economic benefits that had escaped the delta, back to the delta."
As noted on the fund's website, it was initially begun and incorporated as The Robert Johnson Mt. Zion Memorial Fund in 1989. The idea was to save the Mt. Zion Missionary Church in Morgan City, which was in foreclosure, and place a cenotaph historic marker in Mt. Zion Missionary Baptist Church cemetery in honor of Robert Johnson.
Moore elaborates. "At the time, the church in Morgan City was deep in debt. They had done some renovations on their church. They had also put in some pretty ornamental pews, and they had taken out some loans to make sure the pews got installed. Skip, the guy that had founded the organization, The Robert Johnson Mt. Zion Memorial Fund, he started the organization to pay off the church debts. He thought, 'What if somebody buys this church, that is deep in debt? They could place something like some very garish tourist stand next to the cemetery where Robert Johnson is supposed to be buried.' He didn't want that to happen; he wanted the church to stay in control of the property and stay in control of the cemetery.
"So he called Colombia Records and obtained $17 thousand dollars from them to not only pay off the debts of the church but to also erect an obelisk in honor of Robert Johnson. The obelisk that he erected isn't actually a grave marker. There had been hints already that Robert Johnson hadn't been buried there, but he didn't really care at this point. He wanted to help the church. They put up a cenotaph, which is a memorial to someone who is buried elsewhere."
As time went on, the fund erected many grave markers including those for Mississippi Fred McDowell in Como, Mississippi, Big Joe Williams in Crawford, Mississippi, Memphis Minnie in Walls, Mississippi, Tommy Johnson, and Elmore James, just to name a few.
Many of these great musicians were buried in unmarked graves, or in some cases poorly marked graves such as that of Mississippi Joe Calicott, simply marked with a paving stone that read "Joe." Charley Patton, "The Voice of the Delta," seen by some as the father of rock and roll, was buried next to a trash dump. When Henderson initially viewed the grave, he was aghast. He later said, "I was so mad I started crying. Here is one of the incredible fathers of the music that I loved, with garbage on his grave."
John Fogerty donated money to help the fund create and install the marker for Patton. Fogerty assisted with several markers, as did Bonnie Raitt.
In another instance, a farmer removed the headstones from a cemetery, plowed over the land and planted cotton in place of the markers, causing untold grief to family and loved ones of the deceased, in addition to unceremoniously disturbing their eternal rest. Moore, who has seen a few instances like this, relays the particulars.
"One case we were involved in, it's sealed now, so I won't talk about any specifics… Some farmer went out and kicked up the headstones from the cemetery and then plowed over the cemetery with cotton — they planted cotton over the top of the cemetery. The delta is very flat; it's a big flood plain man. They grow cotton, and the fields are massive; it's like oceans of cotton. Then on the corner of some of them, you'll have a little cemetery where a church used to be a long time ago. The church will be gone now because the delta is harsh on buildings. So, if it's a wooden church, it'll eat that up in a couple of summers if it's left untended.
"So a lot of times you had the old cemeteries, and I guess it was a practice, judging from this one case, where they would pull up these stones and just plow over these burial grounds. When I say that we support churches and we'll help them if they are in trouble, we will. We just don't want that to happen to anybody else. Skip was involved with one case, and I was involved with a couple of other issues, not that issue specifically. The pain and all is, well, hard to describe. He didn't ever wanna see that in human eyes again."
When people hear that the fund "assists" churches, sometimes they might get the wrong impression. Moore clarifies the goals of the fund when they come to the aid of any given church. "We're not preaching to anybody or anything like that. We just wanna make sure that who's in control of the property stays in control of the property because that's the best way to maintain these burial grounds, make sure that they're here in perpetuity, for every person who loves the blues to pay their respects.
"If a cemetery's in trouble for some reason, we will step in and help them maintain control. Most of the ones I've dealt with, legal situations have been either an issue of access, as in the land owner won't give them access to the cemetery their loved ones are buried in, or an issue where they should be controlling it because the church is still operable. It helps to understand it because you can't understand it otherwise, not the real reason we're doing this anyway."
He continues with another perspective. "For example: Skip [Henderson] didn't want someone to come in and buy that church and turn it into like a blues-land tourist booth next to 'Come and see Robert Johnson's grave at Bluesland.' We didn't want it to be something garish, and obnoxious. He didn't want that to happen. They were in debt at the time. That's one of the reasons; we want churches that are in control of the land now, and it's their burial ground. These are their loved ones and their families. We want a church that is already in charge of these cemeteries to stay in charge, so they have control over this property."
Moore says that attitudes and conventions have changed in Mississippi. "Things sort of changed in 2001. That's when Claude Johnson down in Crystal Springs got named sole heir of Robert Johnson and got millions of dollars in royalties. After that happened, the local attitudes towards blues musicians and blues music started to change a little bit in Mississippi. So, it's not quite as it was in the '90s when we were having to deal with such things as, well, plowed over cemeteries!"
Also, the delta is a unique and sometimes unforgiving place indeed. Maintenance is essential to fend off the effects of weather and the onslaught of the land itself. Moore agrees. "If you don't keep up with these markers, if you don't tend to them, they'll fall apart on ya. We replaced Sam Chatmon's in 2014."
This being a new era replete with the omnipresence of social media, fundraising has changed since the early days. "Nowadays, mainly, the record industry has changed a lot. We don't depend on record labels for money or extremely popular musicians like we did in the beginning. John Fogerty, Bonnie Raitt, Columbia Records; they funded our early stuff. They were awesome! We put up almost twenty markers and maintained several cemeteries that have our markers in them. We maintain the markers that we've already put as well, still. Today.
"Now we are mainly focused on raising funds through the fans themselves. People who love the blues; they're the ones who see what we're doing, and they want to donate. Whenever we have a project or a new musician whose grave is unmarked, or a church that's in need, I reach out, mainly on social media nowadays, or here on the local level."
Moore continues, "We use GoFundMe. We've used GoFundMe for a couple of campaigns. On the 29th of July, we're doing a big dedication in Nitta Yuma Cemetery near Panther Burn for the headstone of Bo Carter. His real name was Armenter Chatmon, and he recorded under the name Bo Carter. He recorded like, 150 sides before World War II, and was one of the most prolific songwriters of the era. He was a member of the Mississippi Sheiks. We marked his brother Sam Chatmon's grave already.
"People find out about through it being there [GoFundMe], like the one lady who does the Tel Aviv Blues Festival. She found it through GoFundMe, and she and her boyfriend sent donations. I think once the festival comes up, they're gonna see what else they can do. It's been a helpful platform to let people know. For a long time, Skip didn't deal with social media, and I wasn't a social media guru in my personal life. As soon as I took over The Mt. Zion Fund, I realized pretty quick that if we weren't on social media, we might not even exist outside of Mississippi. Creating that presence online was crucial to fundraising. The social media presence, GoFundMe campaigns, and Facebook, making these videos; I can't stress how important all of that has been."
There are a number of ongoing and upcoming projects and events that keep Moore and the fund busy. An important event coming up on Friday, July 29th is the marker dedication for Bo Carter. "That's one we should have done a while back probably. The reason we couldn't do it is that the cemetery does not sit on public land; it's on private land. I got the farmer's assistance that owns that land. I talked to him, and he's a cool guy. This is how we are trying to do things from now on. We don't want to have to go court anymore.
"I talk to them before hand, explain everything to these guys and make them understand how this would be beneficial to that cemetery and to blues music. It won't hurt their land, and we're not trying to infringe on any of their property rights or anything like that."
A good deal of effort goes into a marker dedication and similar events. There's ensuring that the church has ownership of the land, or if not, that family members and loved ones have access to their relatives buried in the cemetery. Then there is verifying that the grave in question is, in fact, the resting place of the artist. Then there is a determination as to whether the marker is to be refurbished or replaced. Once all these issues have been addressed, funds must be raised. It takes approximately $2500 to create and install a grave marker.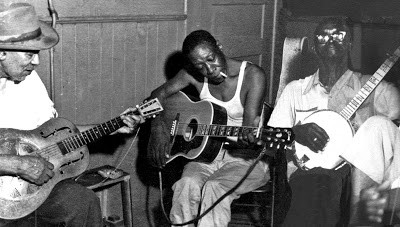 The Bo Carter dedication on July 29th is quite a cause for celebration and will be well attended. Moore is excited as the dedication nears. "The cool thing about this is, the guy that owns the land there, the farmer, is a cool guy and he owns — he has a fiddle that Lonnie Chatmon of the Sheiks used to play. He's gonna bring it to the dedication. I found this other guy who owns Bo Carter's guitar, the steel bodied National he's in the picture with. Both of them are coming to the headstone dedication. A bunch of musicians are; they're gonna play out there, so it ought to be an interesting event.
"I ordered a new marker at the spot that I believe is their plot, which is pretty close to the front of the cemetery. We're gonna place that marker and that will make sure that past that point, there will be no agricultural instances of planting. Bo's marker will be a global tourist destination. It'll protect the cemetery and honor a legendary songwriter. That's very important."
Those wishing to donate to the fund can visit the website and select the "Donate" tab. For more information about the Mt. Zion Memorial Fund: