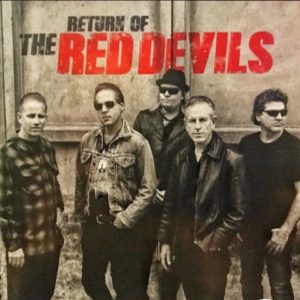 Exactly twenty-five years after the release of King King, their seminal live recording released through Rick Rubin's American Recordings; The Red Devils rocked London's Borderline Club in Soho last night.  The performance is at the invitation of Billy Gibbons of ZZ Top who has arranged for the 21st Century version of TRD to share bills with his band on their current European tour. 
The group's take-no-prisoners approach drawn from gritty Chicago roots, Texas-inspired blues and Hollywood flair, was first seen in Europe in 1993 when they performed in the Netherlands at both the Pink Pop Festival and Moulin Blues Festival, waking up crowds to a new hustle – authentic blues with a swagger and attitude that had never been seen before.  In the ensuring quarter century, The Red Devils have continued to make their mark as numerous tribute bands have adopted their look, sound and feel confirmed by a cursory YouTube search. While the flattering imitations are noted, the band's originals including "She's Dangerous." "Goin' to the Church." 'No Fightin'" stand as testimony to their singular musical mission.
The source of that inspiration is the originals: Texas guitar slinter Paul "The Kid" Size, drummer and Blasters' beat man Bill "Buster" Bateman on drums, guitarist Dave Lee Bartel and Jonny Ray Bartel, his bassist brother.  The front man on vocals and blues harp was the late Lester Butler.   The current version of The Red Devils includes the aforementioned Bateman, Size and Jonny Ray Bartel along with Mike "The Drifter" Flanigin. Mike is well known as a Hammond B3 ace in Austin TX where he's performed and recorded with Jimmie Vaughan, Billy Gibbons but was in an early '90s lineup of the Red Devils on guitar, a role he's reprising now. The band is fronted by Dutch bluesman Pieter van der Pluijm, a/k/a "Big Pete" whose earlier career was directly inspired by Butler and the Red Devils.  Big Pete carries on the Butler/Devils tradition bringing the Chicago blue harp approach of Billy Boy Arnold and Little Walter with him.
The original Red Devils' residency at LA's down and dirty King King Club, essentially an abandoned Chinese restaurant, attracted numerous admirers and camp followers including the aforementioned Billy Gibbons as well as Angus and Malcolm Young of AC/DC, the Black Crowes, Queen's Brian May as well as members of Motörhead and the Red Hot Chili Peppers.
They caught the attention of a certain Mick Jagger, late of Dartford, recruited them to back him in the studio though an official release of the results of that session was elusive until their take on "Checkin' Up On My Baby" was included in Jagger's Very Best compilation years later.
Later, Rick Rubin recruited them to back up Johnny Cash, that collaboration heard on Cash's Unearthed box.  They toured with Los Lobos and, later, the Allman Brothers but disbanded in the mid-1990s with their fervent fan base hoping for a latter day reincarnation.  That day has come as The Red Devils return, keeping the memory, spirit and music alive.
There aren't any second chances in life.  The return of The Red Devils is one of those, so pay heed and take advantage of this long-hoped for opportunity.
Red Devils with Mick Jagger from late last century: