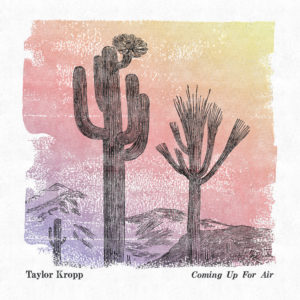 Singer, songwriter, guitarist, Taylor Kropp is a big believer in things working at the right time for the right reasons.  With his solo debut, Coming Up For Air, he steps to the front of the stage from the wings, out of the shadows of the artists he accompanied as a sideman, and begins his own story. The album is scheduled for release on September 15th via Amargosa Music, and can be pre-ordered now.
Both Kropp, and Coming Up For Air are American authentic. Song to song, it is apparent that he is consciously aware of who he is, and what he aims to represent. He tracked this album with a keen sense of what he wanted it to become. The songs were allowed to breathe in creation and he successfully avoided the trap of forcing solos in where a song would be stronger without them.
Beginning with the title track, Kropp comes out upbeat, and attention-grabbing. His youthful voice is clear as a mountain stream. The lyrics are, creatively, miles above the standard bro-country fare that we've been spoon-fed by the Nashville music machine of late.
Kropp wrote all nine tracks, from the summer of 2015, to February of this year. On Coming Up For Air, he provides the lead vocals, some of the background vocals, and plays all the guitar we hear. The record was produced and mixed by Seth Earnest, who also tracks the drums and provides select background vocals.  Other key contributions came from bassist Dino Villanueva, keyboardist William Adkins, Scott Neubert on steel guitar, and his wife Sara, who sings background vocals on "Break Free," and "Duex Mille Sieze."
"Duex Mille Sieze" is the second track. At first listen, it sounded to us like a break-up song. In actuality, it is, but not at all in the traditional sense. Kropp penned the incredibly clever lyrics on the day that actress Carrie Fisher died. "It just seemed like the absolute final blow to the weird year that 2016 is and was," he shared. "It's a goodbye letter to 2016, and a hope that 2017 would be better for everyone." Don't feel bad if the title is unfamiliar to you. We had to research the phrase ourselves. But once we learned what it meant, the whole song made perfect sense.
Sharp, intelligent lyrics combine with masterful musicianship throughout the entire album. The politically inspired, "Even if You're Wrong," is a song that everyone needs to hear today. The message is one of acceptance, and toleration. Musically having an outlaw country vibe, helps hammer the point home even more. "I'll Forget in Time," has that sound that made us want to roll the windows down and haul ass down the nearest dirt road.
"Sober Reality," and "Let You Fall," are both top-notch ballads, as is the first song he wrote after arriving in Nashville, "Break Free." Being exposed to all the talent around him, made Kropp even more determined to strike out on his own. "I wrote it ["Break Free"] with the hope that anybody who has ever felt misunderstood would find comfort in its lyrics, as well as to inspire hope in myself and my wife that we won't always be struggling or living paycheck to paycheck."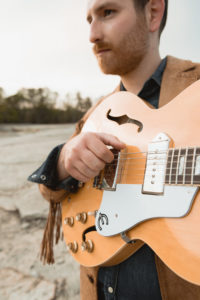 Our absolute favorite song on this offering is "Stereotypical Three Dimensional 21st Century Troubadour." This bluesy track caught us off-guard with every verse. Just when we thought we knew what was coming next, the ever-innovative Kropp threw us a major curve. The hand-clapping, piano-infused beat had us smiling all the while. Make sure you listen to the end, as the playful back and forth between Kropp's guitar, and Adkins' piano, provides a nice, live feel to the studio recording.
Coming Up For Air ends with the appropriately titled, "Long Way Home." Lyrically, it's the perfect finale. Musically, the extended slide guitar solo midway through hit a melancholy nerve that left us wanting more.
Kropp emigrated from Monterey, California to Nashville a couple of years ago with the intention of creating opportunity. In short form, he became a hired-gun guitarist for Tanya Tucker, Kristen Kelly, and Josh Dorr. Along the way, he met his producer Earnest, tracked performances on others records, cut his own, performed in the feature film Believe, and now looks forward. If this solo debut, and his current coast-to-coast tour are any indication, what he's looking at is a long, successful career.
Artist: Taylor Kropp
Title: Coming Up For Air
Label: Amargosa Music
Release Date: September 15th, 2017
Running Time: 32:47