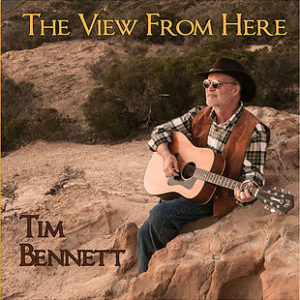 In January of 2014, Tim Bennett was the lead singer and main songwriter of a band called Whistler's Father who had just recorded an album called, Highly Irregular.  "I was unfamiliar with Americana as a music genre," he explains.  "That album was what I came to think Americana was all about; country, blues, folk, bluegrass and a little bit of rock."
Since then, Bennett has gone on to record two solo albums,  Inevitable Discovery (2016) and now The View From Here which will release on August 11th. Straddling country rock, The View From Here employs the same musicians that Bennett met while working with Whistler's Father.  "That project took a year and a half," said Bennett.  "What I got from that experience was a great place to record, Custom Taylored Studios, and a great group of session musicians that I fondly refer to as 'The Demolitionists'. These guys were pitched to me as today's 'Wrecking Crew' and they have certainly lived up to that comparison."
Recording in January and February of 2017, Bennett wanted more uptempo and mid-tempo songs for The View From Here. As a result the album has a few more songs that rock than his previous endeavors, but never lets go of its country roots.  10 original songs and one Bob Dylan cover, The View From Here kicks it off with "As Long As You're Buying,"  a straightforward country song about drowning your sorrows after losing a job you really didn't like in the first place.  "I decided to test my voice with this song," admits Bennett.  "I sang it in E instead of the original key, C.  It put a little more urgency into the vocal and took it out of that wry country terrain and elevated it to a barnburner."
"There Was Nothing I Could Do," is reminiscent of a classic country heartache ballad.  The song is hauntingly sparse with just Bennett on acoustic guitar, and Ernie Nunez on upright bass. Matt Brislawn comes in with a mournful fiddle solo.  Bennett sings all three of the vocal parts of the song.  The rhythmic and upbeat, "Hot Town," began with Bennett banging out a chord progression on his acoustic guitar one night.  "My wife came in and asked what I was playing and I told her, 'I don't know yet.' I was thinking about how folks get crazy from the heat."   With Rick White on guitar and Hal Ratliff on keyboards, Bennett and the band tear it up on this one.
"A Dangerous Man" is a true rocker complete with guitar solo, while "Awakened By My Breaking Heart" slows it down with Bennett again on acoustic and Nunez on bass.  Bennett, a self-taught harmonica player, gets to "blow a pretty good harmonica solo on this one."  The last song on the record is the appropriately named, "The End Of The Line."  "Trains, trains, trains," said Bennett.  "There are lots of songs about trains in every musical genre and this one is mine."
"There was no musical genre called Americana when I was a kid," says Tim.  "Americana music has evolved from music cast off by other mainstream genres for not fitting their particular mold.  I've been told by the musicians that I've worked with that I don't follow conventional music choices.  I hear things differently but it still works."
The View From Here, establishes Bennett's place in the Americana genre and sees the artist hitting his stride.