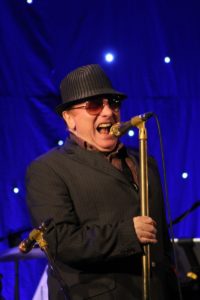 Nashville, TN — The Americana Music Association℠ is proud to announce Van Morrison as the recipient of the 2017 Americana Lifetime Achievement Award for Songwriting at the Americana Honors & Awards program at the historic Ryman Auditorium on Wednesday, September 13. Morrison will also headline the Ascend Amphitheater on Thursday, September 14, with special guest Shana Morrison, during the 18th annual AMERICANAFEST℠ in Nashville, TN, September 12-17, 2017.
The Ascend Amphitheater performance will be Van Morrison's first in Nashville in eight years. His daughter Shana Morrison will open the evening. The show will be a separately ticketed event and tickets will go on sale to the general public Friday, May 19 at 10 AM Central. AMERICANAFEST℠ conference registrants and members of the Americana Music Association℠ will have a special pre-sale opportunity starting on Tuesday, May 16.
"We are humbled and couldn't be more excited to honor Van Morrison at our premier event of the year and are thrilled to present Mr. Morrison at Ascend Amphitheater," Jed Hilly, Executive Director of the Americana Music Association℠, said. "Mr. Morrison has created a catalog of music that has served as a soundtrack for our lives."
AMERICANAFEST℠, described by Mojo as "the roots music alternative to the GRAMMYs and SXSW," will bring more than 200 artists to multiple venues around Music City, including 3rd & Lindsley, The Basement, City Winery, The High Watt, The Cannery Ballroom, Mercy Lounge, The Family Wash, Station Inn, Downtown Presbyterian Church and The 5 Spot, to name a few. The event includes Nashville's most comprehensive music industry conference, featuring the best and the brightest on panels and workshops throughout the week.
The growth of Americana as a genre – curated and cultivated by the Americana Music Association℠ – is evidenced by milestones over the years, including both Billboard and the Official Charts Company in the UK adding Americana to its list of album sales charts; multiple Grammy categories; partnerships with NPR and PBS; the curation of special events around the globe including AMERICANAFEST℠ and PBS; the curation of special events around the globe including AMERICANAFEST℠ NYC at Lincoln Center; and newly formed partnerships with the Americana Music Association UK and Americana Music Association Australia.
Visit the Americana Honors & Awards for more info, and to purchase registrations and tickets.