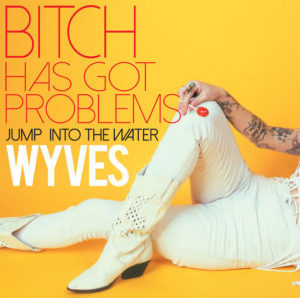 Alt/soul rock 'n rollers, Wyves, have released the track, "Bitch Has Got Problems." They are currently putting the finishing touches on their new album but have already taken huge strides since their formation only two years ago. The single is available via Third Man Pressing on white, 7″ vinyl.
"This is the song we usually cap off the end of our shows with, and gets the craziest crowd response," the band shared. "It's our ode to madness and the human void. We are proud to share it with everyone. This track will be followed up by a string of singles leading up to a full album in 2018."
The Phoenix, AZ-based quartet, comprised of Corey Gloden (Lead Vocals/Rhythm Guitar), Nick Sterling (Lead Guitar/Backing Vocals), Brenden McBride (Bass) and Evan Knisely (Drums), played their first show as a band in June 2015. Since then, have been evolving at an unstoppable pace. The group released Spoils Of War in February of 2016 to rave reviews.
Citing Rival Sons, Queens of the Stone Age, Alabama Shakes, and The Black Crowes as influences, Wyves are making their way into the spotlight as a fresh generation of rock artists. They have shared the stage at festivals, and as direct support, to acts including, Gary Clark Jr, Leann Rimes, Govt. Mule, Juliette Lewis, and many more.
"Bitch Has Got Problems" is backed with the boogie-woogie single, "Jump Into the Water."