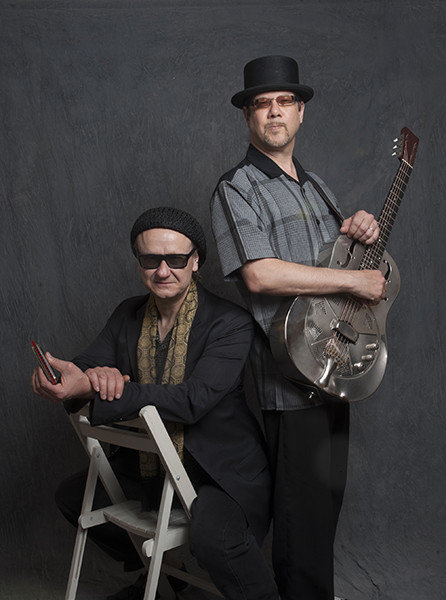 What if we could travel back in time and be in the audience for a Charley Patton performance? How thrilling would it be to hear Blind Blake, Charley Patton, Daddy Stovepipe, Sonny Boy Williamson I, Sonny Boy Williamson II, or Bukka White live? We do have their music to enjoy on albums, and our digital devices, but to see them perform?
Joe Filisko and Eric Noden bring back the spirit of these musicians every time they play. They are not wannabes. They are not impersonators. They are not a "pre-war" tribute act. What they do is perform their own compositions that pay homage to the styles and artists whose work inspired them to make music in the first place.
The two men have been performing as a duo for 14 years now. Eric is a virtuoso fingerpicking and slide guitarist whose love of country blues drips from every note he plays. Joe is a harmonica player who's playing is at once refined and subtle, yet honest and expressive.
This roots duo will bring their passion and unique music to day 2 of the Paramount Music Festival (Centennial Celebration) in Coal Dock Park Port Washington, Wisconsin on September 2nd.
We spoke with them recently about their music, their friendship, and why keeping the blues alive is so important.
Barry Kerzner for American Blues Scene:
Joe, your hometown is Joliet, Illinois, just south of Chicago, but you were actually born in Germany. Tell us a wee bit about your background?
Joe Filisko:
Growing up in Joliet I think is a fairly typical middle-class upbringing. I was involved in sports and Boy Scouts and such. When I was in high school, I fell in love with music and was spending a lot of time with my guitar. It wasn't really until I went to college that I started to take a passion for American roots music; blues, ragtime, finger-picking guitar style. It was through that exposure to American roots music at college that I started listening to the harmonica, and that became even more of a passion. It is still, to this day.
Eric, you started when you were eight years old, and your dad was the one that initially stoked your interest, correct?
Eric Noden:
Yes, that's correct. When I was eight, I got interested in guitar because my dad played just for his own amusement. He was playing guitar around the house, and I got interested in it initially, and I started playing electric guitar. When I was about 19 or 20, I got interested in playing roots music and fingerpicking acoustic blues stuff, mostly by a guy named Andy Cohen. He introduced me to a lot of the different styles when I was back in Northeast Ohio. A couple of years later I relocated to Chicago.
When you got to Chicago, that's when you met up with Joe?
Eric:
That's true. Joe and I both teach at the renown Old Town School of Folk Music in Chicago. That's actually the reason I came to Chicago was to teach at the Old Town School. I met Joe early on; actually, I took a few harmonica lessons from him.

I was always interested in the harmonica so we knew each other at that time. We didn't get together till maybe five or six years later until we started doing our duo project we've been doing for 14 years now.
So Joe, what was it like for you to run into Eric, and start making music together?
Joe:
That's always been an immense pleasure working with Eric, who is a very talented, very detail oriented guitar player. And, a very responsible human being. So, I certainly had to up my game and up my musicianship upon starting to play with him. It showed what my musical shortcomings were. The guy made me work really hard.
So what do you think about that, Eric?
Eric:
Joe and I had been doing mostly solo acoustic gigs, and I was interested in trying to do more stuff in duo settings. We tried a couple of gigs. I loved the fact that he had a laser focus on the harmonica and all these different interesting early styles of the harmonica, blues, and folk that not a lot of people even knew about, especially know how to play.

I think we clicked because we spent a lot of time studying this music and transcribing it as well. Joe kind of wanted to push things forward, like, 'Let's work on this, let's work on new stuff and try to improve what we're doing.' It was very appealing to me because I sometimes think when you're a musician, you just learn a certain amount of stuff and then you ride on that for an indefinite amount of time.

We're both pretty mellow, easy-going human beings I think, and that makes us get along well.
Besides what you call "listening rooms," what other types of venues have you played and where do you feel that your music is being best received?
Eric:
I think we're well received at many venues. We've had great reception at folk festivals, blues festivals, and any place where the audience is coming out to focus on the music. Our music isn't suited for super-loud, wild parties with screaming people. We've played everything from a room that holds 22 people to three or four thousand people at an outdoor festival in Brazil. So, our music can work in a lot of situations.
Joe:
I think that our music is very flexible. We can be very rowdy, or very gentle and laid back, quiet, and serene. I feel like our background is pretty diverse in delivering the music in whatever energy level the audience demands.
Do you have a preference of type venue you want to perform in, or it doesn't matter as long as the people are diggin' it??
Eric:
I think you said it right there. As long as the folks are digging it, and as Joe said, we adapt our repertoire to that. A listening situation probably allows us the widest scope, the widest range of expression because we can do something rowdy, and we can also do other things too.

This summer we played a gig that was primarily for dancers, so we played a lot of upbeat stuff and we added a drummer and a bass player with us, and we adjusted to that format and situation. We are pretty versatile like that.
Let's spend a moment talking about your influences. Joe?
Joe:
I feel like I've been influenced by … everybody! Going back to the players that first recorded, Daddy Stovepipe who recorded in 1924, Henry Whitter first recorded in 1923, The Jug band players that recorded in the 1920's, Will Shade, Noah Lewis, Jed Davenport. Then there's the Alabama harmonica players, Jaybird Coleman, George 'Bullet' Williams. Then, of course, there's the Sonnys, which included Sonny Boy Williamson I, Sonny Boy Williamson II, Sonny Terry. That's just barely coming up to the modern time.

Much of the music that we do has a very specific inspiration that comes from a very specific player or players or a style. I have not been much interested in trying to get people to be impressed with might be called my own style, I've been trying to make people aware of how many cool other styles have existed that people may not be aware of.

One of the stranger harmonica players we do a tribute to, every time we play is the North Carolina harmonica player, Gwin (aka Gwen Foster), who may have the most unique of all harmonica playing styles.
Eric:
Like Joe, I like a wide scope of the pre-war, blues folk musicians; the ones that recorded before WWII. That includes Reverend Gary Davis, Blind Boy Fuller, Charley Patton, Tommy Johnson, Bukka White,  and Blind Blake. We try to write songs that capture the nostalgia of one of these specific artists. We try to capture the approach that those different players had. I enjoy that variety, the difference of Mississippi Delta blues versus east coast Piedmont styles that are more rag-timey.

We use our song writing to pay tribute to these different musicians, a lot of which were on the Paramount label.
On previous projects, the three albums for instance, the music is your own, but still, one can hear the influences of the people that you just spoke of.
Eric:
Three of the CDs that we have released 'I.C. Special,' 'Missed Train Blues,' and 'On the Moon,' all represent a variety of these styles. We try to have a mixture on each one of these CDs. Our hope is, as Joe mentioned earlier, not that necessarily will listen to it and say wow, Joe Filisko and Eric Noden. I hope that it's more that people listen to it and say this must be a lost recording of Sonny Terry and Brownie McGhee. Or Mississippi Fred McDowell and Johnny Woods. While our songs are our own original material, we try to play true to the style, and I think that makes it more interesting. It may be more difficult to market or pigeonhole a particular style, but that's what makes us happy and keeps us amused.
Given that, in your minds, especially as you are performing in the Paramount Music Festival, why is it so important that we preserve the legacy and music of these artists that were on the Paramount label?
Joe:
Personally, I feel that it's a sad situation when we cannot learn from people that preceded us. I think it's a cliché but, and I'm sure Mr. Noden would agree, that I am standing on a multitude of giants. We're trying to keep people aware of the legacy of great music that came before us, not trying to put ourselves at the front and center as being creators or originators of it.

Almost all of our material pays some homage to the people that we learned from and drew inspiration from. We're always happy on stage, to go into, sometimes extreme detail about these performer's styles and the performances that they recorded.
Eric:
I agree with what Joe said. I think Paramount is interesting because they have recordings going back to '24 I think. All of them are some of the earliest recordings of players that were of a certain age. So it gives you some of the earliest recorded histories of the country blues players. It's an amazing legacy, and a lot of my favorite stuff is these artists – Papa Charlie Jackson, Blind Blake, and they go back into blues, but also even into tent show music, medicine shows, and stuff like that. It's like a window into the past.
What's new? What's on the horizon? Are you working on a new album or a live set?
Joe:
Yeah, we are working on a new CD. We're working on recording into just one stereo microphone, so we've been working on that, and we are hoping to have that finished as soon as possible. We're not sure when that will be; maybe towards the end of this year or early next year. We have a lot of touring in our future. We'll be doing a big tour of Europe in October and November, and looks like we'll probably do a big tour of Australia in January.
Any plans for a live DVD, if not a live CD?
Eric:
We're starting to video record a lot of our shows, so we are releasing quite a bit of live footage to our Facebook page. We're gonna have a YouTube channel as well, and we'll be releasing cuts from our tours. Also, on a fairly regular basis, we do live streaming concerts on a thing called Concert Window. So, we are using that platform, to basically do an online concert for our fans, who we only see once a year, traveling to Europe and what-not.
Is that a pay-per-view thing, or…?
Eric:
You can set it up however you want, but we set it up for I think what's called 'Pay What You Want' so people can pay a dollar, or they can give us ten dollars, and they can also give tips if they like a song that we play.

So, yeah, we are working with video, but we don't have any specific plans to release any physical product, a DVD, at the moment. It's something that I could see happening in the future.
How do you feel that we can get this younger generation more involved with blues so that they can pass it on the next generation after them. How can we show them that it is not merely "old man" music, but that it is still relevant?
Joe:
Well, that's the million-dollar question. I guess all I can tell you is that I try to play the music as passionately and as sincerely as I can, with my hope that that comes through to somebody or multiple people of the younger generation and they feel connected to it. My fingers are crossed.
Eric?
Eric:
My experience has been, if young folks get a chance to hear our music, they usually like it and appreciate it, but a lot of times, they don't get the chance to hear this type of stuff because it's very off-the-beaten-path so to speak. I think the other element is that you have to get young people to play the music because a lot of times, people like to listen to music of someone who is their age playing it. That's key. That's a complicated question, and I don't have any definitive answers to it.