"Blues is not for the faint-hearted. Since the genre first drew breath, its greatest practitioners have embraced the darkness, spinning tales of hardship and death, hellhounds and devilry." So it is with the latest offering from veteran British blues band, Savoy Brown. Their Witchy Feelin' gets released today via Ruf Records.
In 52 years, and with nearly as many lineup changes, Savoy Brown has had two constants. A blues influence, and Kim Simmonds. Simmonds, the multi-instrumentalist and current lead singer, founded the band in 1965. Being one of the first racially integrated groups in the UK gave them a hook. Their Chicago blues style repertoire gave them staying power. These kings of boogie have released 30+ albums, and have played the most renowned venues on the planet.
Witchy Feelin' follows other macabre themed titles on Ruf, including Voodoo Moon, and The Devil to Pay. The opening track, "Why Did You Hoodoo Me," kicks off with a brittle guitar riff, setting the tone for a love song that's been rolled in the grit. Reminiscent of J.J. Cale, Simmonds baritone is strong and smooth, combining with his crystalline lead breaks to provide a glossy finish over an otherwise dirty blues song. We absolutely loved the theme of love's power presented with such gravel.
Another filthy sounding song comes with "I Can't Stop the Blues." Much like the opening track, the lead licks are crisp and precise, giving the rhythm an even dirtier feel. Garnet Grimm keeps a constant heartbeat throughout, and the bass of Pat DeSalvo gave us the feeling that the bottom may drop out at any moment. It's one of those songs that made us wish our volume settings had an additional notch or two. We couldn't turn it up loud enough!
"Livin' On the Bayou" slows things down just a bit, with the swampy feel one would expect from the title. The lyrics are original and tell the story of several Louisiana characters. Things decelerate sharply on the title track. This slow burner is still brimming with Simmonds' brilliant lead fills. It's a bit eerie, but that's the point.
Another dark tune hit us when "Thunder, Lightning & Rain" came roaring through our speakers. A psychedelic, wah-wah driven, tremolo overload in the best possible way, it put us right in the eye of the storm. This one has our vote for favorite track.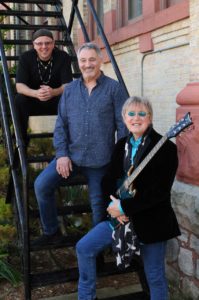 Not all the songs on Witchy Feelin' are unearthly, but all have classic blues themes that are instantly recognizable. "Vintage Man" tells the boogie-woogie tale of a never-changing man. You know the one. The guy that still takes his '57 Chevy to the drive-in, and wouldn't trade his beat up, classic guitar for a brand new anything. "Guitar Slinger," we find, is a semi-autobiographical account of Simmonds first seeing Roy Buchanan back in 1969. The Welshman slings some impressive guitar of his own on this rocking track. Some stunning slide greeted us on "Standing in a Doorway," and "Can't Find Paradise" has a classic 60s blues-rock vibe.
The album closes on a soulful note with "Close to Midnight." A jazzy instrumental with hints of George Benson influenced guitar, it had us feeling like no matter how much hoodoo, thunder, or whiskey we're dealt, it's all gonna be alright.
With over five decades in the game, there's a reason Savoy Brown has stood the test of time. Witchy Feelin' is it.
Artist: Savoy Brown
Title: Witchy Feelin'
Label: Ruf Records
Release Date: August 25th, 2017
Running Time: 54:27