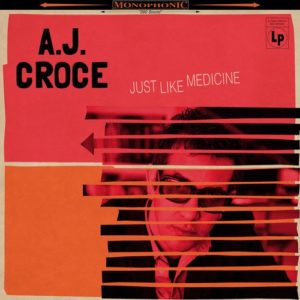 A.J. Croce's gritty and accomplished ninth studio album, Just Like Medicine, is his latest and arguably greatest effort yet. Produced by legendary soul singer-songwriter, and producer Dan Penn, the album hits the streets tomorrow (8/11/2017) via Compass Records. Midway through the release is "Other Side of Love," a heartfelt ballad, indicative of the great soul sound of yesteryear.
Croce has been inextricably linked to a version of his own story by virtue of his name. He's experienced a lifetime of comparisons to a father he lost at age two, whose music bares little resemblance to his own output yet still serves as a reference point despite the years that have passed and the many iconic mentors who have stepped in to offer their counsel, creativity, and endorsement throughout his long career. Just Like Medicine is an authentic version of his story, which contains both unimaginable sorrow and many blessings.
It's curious then that it now feels necessary to include the reference, as enough time has passed that a new generation of tastemakers and journalists might not know who Jim Croce was. He was a golden-voiced everyman, a singer-songwriter-guitarist who died too soon, leaving one of pop music's most beautiful, and memorable ballads ("Time in a Bottle" was written about a young A.J.) in his wake.
Just Like Medicine stands as a Croce hallmark. Having been produced by Penn, who wrote hits such as "The Dark End of the Street," "Cry Like a Baby," and "I'm Your Puppet," the album also graces us with artists including Vince Gill, Steve Cropper, the McCrary Sisters, and the Muscle Shoals Horns. It includes a song penned by Leon Russell, as well as a previously unreleased tune, courtesy of his late father, Jim.
That's a wealth of bluesy/Americana influence. But, it's not just a lot of blues touchstones, this album has a WHOLE lot of soul. Take a listen to "Other Side of Love," and we're sure you'll agree.