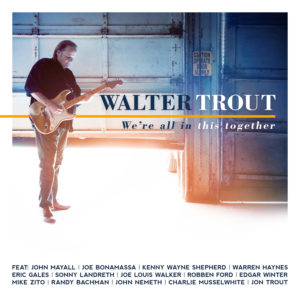 Editor's Note: We recently had the opportunity to converse with Walter Trout. We spoke about his latest album, the current tour, his present-day status, and more. So much more, that we broke the interview into two parts. This is Part Two, in which we discuss his soon to be released album, 'We're All in This Together,' the songwriting process, and the friends he brought on board.
JD Nash for American Blues Scene:
'We're All in This Together,' is just off the chain good.
Walter Trout:
Well thanks man. I'm pretty excited about that record I'd have to say.
You brought in some heavy hitters on this project. I mean going all the way back to your very beginning in music.
Like Charlie Musselwhite. I've known him since I was with Canned Heat, so we go way back. All the rest of those guys, they're all friends of mine, and it was really awesome that they all said, 'Yeah, let's do it.'
Well you have some pretty hot young guns on there too.
Yeah, Mike Zito and I go back to 1999. We've been friends since then. I played at a club in St. Louis called Mississippi Nights, on my first tour of the states in '99. He opened up for me, and he was just a kid. We became friends that night, and we've been friends ever since. In fact, the cut we did together is one of my favorites.
How hard was it to get them all involved? I mean most of them were wherever they were, recording their parts and sending them to you.
Well, you know, in the studio we had Joe Bonamassa, Edgar Winter, and my son were all in the studio. With the rest of them we had to work it out. It was easy to get them to agree. The hard part was the logistics of scheduling, because every one of these guys is a touring, hard working musician. It actually went three months over schedule, because there were certain guys that wanted to be on there, but couldn't get into a studio for a month. My wife was really the one that had to put all that together. She had to arrange times, engineers, and set all that up. Logistically, it was somewhat of a nightmare, but everybody came through.

As a matter of fact, I had 18 guys lined up, but the label wanted to keep it to 14. There were 4 guys that got cut, I don't want to mention names, but it was hard to make those calls and say, 'well maybe next time.' A lot of the cuts had to do with scheduling. For instance, Albert Lee, who is a friend of mine, said, 'I'd love to be on it, but I'm on tour and can't get to this for another two months.' That made it easier to say, 'Look man, we'll have to wait.'
With the way it was recorded, you in one studio and your guests in another, somewhere else in the country, was it hard to put together?
It all came together. Listening to it myself, I'm hard pressed to not think we're standing in the same room together. I mean, have you heard the Warren Haynes cut yet? It sounds like we're standing there looking at each other.
You got with Haynes, Robben Ford and those guys through Supersonic Blues Machine right?
Yeah, and I still do gigs with them. I actually played in Russia with them about a month ago. We played at a private party for Vladimir Putin. That was kind of a unique experience. Our opening act was Julio Iglesias, and that was a little strange. It was rather tense. There's Vladimir Putin sitting there, and you think to yourself, 'I'd better play good or I'll end up in a work camp in Siberia.' [Laughter] At that gig the guests were me, Lucky Peterson, and Jonny Lang. It was the Blues Machine with us three. They have a revolving group of guests, and again, that all depends on who's available.
Out of the 14 tracks on the new album, you wrote 13 of them. You also wrote each one for the guest who joins you on that track.
That's exactly right. I had to think to myself, 'OK what do we do for this guy?' The only reason I did "The Sky is Crying" with Warren, is simply because he had me play with him, as a guest, with Gov't Mule. It was at the New Orleans Jazz Festival. He brought me out and said, 'Hey you're a blues guy, let's do The Sky is Crying.' Well, we did it, and we just tore it up. When he agreed to be on the record, we both agreed that we needed to record that. That's why we did that, or I would've written a song for him too.
How hard was that, to write a song for each individual?
There's a great quote from Edgar Winter. I said, 'Edgar, I wasn't sure what to write for you, because you play everything. You play all genres of music and I didn't know what to write.' He said to me, 'Well Walter, I'm gonna tell ya. My first love is the blues. But when my brother started playing guitar, I figured he pretty much had that covered.' [Laughter] 'Yeah, your brother certainly did have that shit covered man.' That just cracked me up. I was picturing him as a little kid, listening to his brother getting better and better, and saying, 'holy shit, bro is getting fuckin' good.' I mean, imagine being Jimmie Vaughan, and you're listening to your little brother as he's coming up. [Laughter]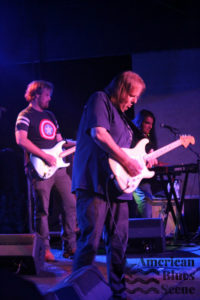 Every one of the songs you wrote hits that particular guest's genre, or their strengths.
For instance, the song with Zito. My wife was saying to me, 'Mike is more of a blues rock guy, and this almost like the Allman Brothers or something. Why don't you save that song for Warren?' If you listen to Gov't Mule albums, they don't really do blues. I think people are going to like hearing Warren play a slow blues tune. Also, yes, Mike is really a blues rock guy, but of all the guys on the album, he's also one of the best singers. 'She Listens to the Blackbird Sing,' needed a good singer, not just a good guitar player. That song has a specific melody that needed to be sung, and it's actually in a high range. A lot of thought went into who we would give that song to. He was just the perfect choice. He nailed it.
Speaking of singers, "Got Nothin' Left," with Randy Bachman. It doesn't sound like his voice has lost anything over the years.
You know what man, when his verse comes in, I just start laughing because what I hear is "Takin' Care of Business." It's the same, exact voice. I hear that voice and I just get a big smile on my face, because his voice has not changed in 40 years.
Bringing in John Mayall, it's like you covered all the bases from your career.
With John, I really thought a lot about that too. He was on my album Full Circle, and he was on my album, The Blues Came Callin.' On both of those, we did electric blues, with the band. I Thought it was time to do something really different with John. I just got the idea to do some acoustic, country blues, and be like Sonny Terry and Brownie McGhee. He went for it. He really loved the idea. It's a song I wrote about Jimmy Trapp, my old bass player, and my very dear best friend. He started my band with me way back when. He passed on in 2005, and it's a song about him. Oh yeah, John came in the studio too, so there's another guy that was in the studio.
The song you do with your son, "Do You Still See Me at All." Was that a combined effort?
That was really a collaboration. We sat down in the kitchen, and we wrote the song together. Probably 70% of the lyrics are Jon's. I came up with the rest of the lyrics, and put it to music. That song is really a collaboration between the two of us.

I can also say that on the Bonamassa track, "We're All in This Together," the third verse, my wife wrote that. The instrumental with Robben Ford, "Mr. Davis," part of that instrumental was written by Eric Corne, my producer. Oh, and I have to mention that Charlie Musselwhite's song, "The Other Side of the Pillow," was a collaboration among three. I have a friend named Richard T. Bear, an incredibly accomplished keyboard player, who plays with absolutely everybody. He called me up and said, 'Hey, I've got this verse for a blues song, and I don't know what to do with it.' It was a really great blues verse. I came up with the groove, and then Musselwhite came up with the second verse on his own, and I came up with the third verse. That was really kind of fun putting that thing together.
Other friends that appear on We're All in This Together include, Kenny Wayne Shepherd, Sonny Landreth, Eric Gales, Joe Louis Walker, and John Nemeth. The album drops in the US on August 25th, and in Europe on September 1st, via Mascot Label Group/Provogue.