This is the latest installment of our weekly series The Language of the Blues, in which author and rock musician Debra Devi explores the meaning of a word or phrase found in the blues.
Grab a signed copy of Devi's award-winning glossary The Language of the Blues: From Alcorub to Zuzu (Foreword by Dr. John) at Bluescentric.com. Also available as an eBook.
Used as a rhyming substitute for "ass," yas yas and "yas yas yas" appear in hokum blues from the 1920s such as Tampa Red's big hit, "The Duck Yas-Yas-Yas." In "Get Yer Yas Yas Out," Blind Boy Fuller sang "get yer yas yas out the door."
The most popular version of "The Duck Yas-Yas-Yas" was the party tune recorded by Tampa Red and Thomas A. Dorsey that exhorted guests to:
Shake your shoulders
Shake 'em fast
If you can't shake your shoulders
Shake your yas-yas-yas
Memphis Minnie used "yas yas yas" to great effect in "New Dirty Dozen":
Now the funniest thing I ever seen
Tom cat jumping on a sewing machine
Sewing machine run so fast
Took ninety-nine stitches in his yas yas yas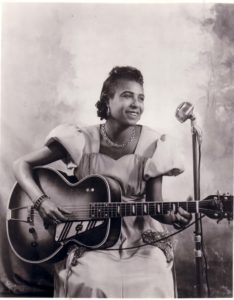 The dozens (also called "the dirty dozens") is a verbal game in which two-line rhyming insults are shot back and forth in front of an audience. In "New Dirty Dozen," recorded by Memphis Minnie in 1930, she warns, "Come on all you folks and start to walk. I'm fixing to start my dozens talk." She then proceeds to rip on everyone from the hookers on the corner to a blind old man and the poor tom cat.

Pick up a signed copy of The Language of the Blues today!
Songs:
"Get Yer Yas Yas Out"- Blind Boy Fuller (Fulton Allen)
"New Dirty Dozen"- Memphis Minnie (Lizzie Douglas)
"The Duck Yas-Yas-Yas"- Tampa Red (Hudson Whittaker)
Video:
Tampa Red – "The Duck Yas-Yas-Yas"