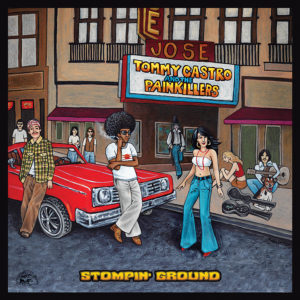 Alligator Records has set a September 29th release date for Stompin' Ground, the blazing new album from soul-blues rockers Tommy Castro & The Painkillers. Guitarist, vocalist, and songwriter Castro leads the Painkilllers;  bassist Randy McDonald, keyboardist Michael Emerson and drummer Bowen Brown. Together, they have played hundreds of shows to thousands of music lovers, always leaving audiences screaming for more. All of Castro's albums are filled with original blues, soul, and West Coast rock. Each song on Stompin' Ground shows a slightly different side of his multifaceted musical personality. ABS has recognized Castro as "one the most popular blues and roots music artists out there."
On Stompin' Ground (available on CD and 180g yellow vinyl), Castro, a native of San Jose, California, opens windows both into his past and his always-evolving musical future. Self-produced with guitar wunderkind, Kid Andersen, it was recorded at Andersen's Greaseland Studio in San Jose. Stompin' Ground finds Castro letting loose on a set of 12 tracks featuring six originals and new versions of songs he learned and played as a young up-and-comer. He is simultaneously looking back with autobiographical originals and cover songs that inspired him, while forging a forward trail with modern lyrics atop blistering blues-rock.
As always, Castro has brought some special friends on board for this project. They include Charlie Musselwhite (harp and vocals on "Live Every Day"), Mike Zito (guitar and vocals on "Rock Bottom"), Danielle Nicole (vocals on "Soul Shake"), and Los Lobos' David Hidalgo (guitar and vocals on "Them Changes"). "I heard each one of my friends' contributions on these songs in my head as I was working on them," says Castro. "Happily, when I reached out and actually asked, everyone said yes."
Castro's musical roots run deep. As he unleashes his high-energy music, he is inspired by the sounds he absorbed while coming of age on the rough and tumble side of San Jose. During the late 1960s and early 1970s, this was Castro's home turf – his stomping ground. It was a place where the street-tough Mexican Americans and the counter-culture hippies came together to drink, smoke, laugh, party, and listen to tunes. The hippies had their blues and rock, the Mexicans, their soul music. Mixing the blues-rock he loved, and the soul music he heard blasting out from the lowriders cruising the streets, along with the socially conscious message songs of the day, Tommy's own sound was born.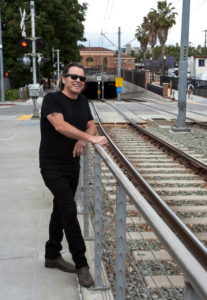 After years of gigging, 15 albums, and several Blues Music Awards, in 2012 Castro formed The Painkillers. Thus creating a lean, mean four-piece lineup, capable of delivering soul-shaking, muscular music. The band released The Devil You Know in 2014 and Method To My Madness in 2015, with critics shouting praise and admirers cheering his every move. Castro had stripped his music down to its raw essence with the new, smaller band, sounding bigger than ever. On record and on stage, Tommy Castro & The Painkillers' road-hardened, seemingly telepathic musicianship bring an unmatched passion to Castro's blue-eyed California soul and hard-rocking, good-time songs.
With months of tour dates across the U.S. and Europe, Tommy Castro & The Painkillers will be bringing the songs from their new album directly to their fans. No Depression says, "Castro plays gritty, string bending blues like a runaway soul train…a glorious blend that rocks the soul and lifts the spirits." Blues Revue simply says, "Tommy Castro can do no wrong." With Stompin' Ground, he is clearly, once again, doing everything right.