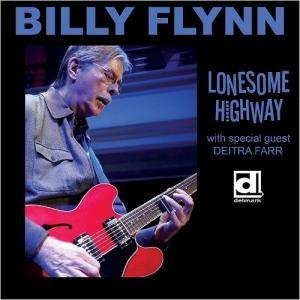 There are certain musicians out there that could make a broom with a string nailed to it talk, and sound good doing it. Ricky Scaggs, Vince Gill, Roy Clark, and Billy Flynn. Sure, Flynn is known for playing with some of the finest Chicago blues performers to have graced street corners and stages with equal passion. Then too, he loves jamming a soul classic or painting a room with a stimulating jazz line. For Flynn, it's all about sounds and what he can do with them; it always has been.
Universally respected and loved by fans and peers alike, Billy Flynn has played and/or recorded with some of blues' greatest exponents including Jimmy Dawkins, Sunnyland Slim, Kid Ramos, Kim Wilson, Little Smokey Smothers, Snooky Pryor, Big Bill Morganfield, and Deitra Farr, among others. A wonderful storyteller, Flynn provides a fascinating window into the blues world.
American Blues Scene was grateful, as always, to spend quality time catching up with Flynn recently.
Barry Kerzner for American Blues Scene:
How did Jimmy Dawkins influence you?
Billy Flynn:
Pretty much, Jimmy Dawkins was everything to me. When I first heard him, it was instant, instant love. I liked the picture of him on the record, how he was looking out, into the world. He had a different perspective on things. I think that reflected in his music, especially his singing. I was 14 years old, and I got to know Jimmy real well. He said to me, 'Let's take a walk,' and we wound up across the street. We used to go on walks – we instantly hit it off.

I don't know if it was him or me, but he was just so very welcoming to me. He liked my guitar. I had a Gibson, and he was playing a Fender at that time, and we talked a lot about that too. He ended up getting a Gibson after that. I mean, just getting to know him… I always considered myself fortunate that I had the relationship that I did with him. I pretty much lived with him for a while because I wasn't married and I stayed with him in between trips. We rehearsed a lot together. He introduced me to a guy named Bill Hill, who was a legendary DJ in Chicago, and that was a real thrill. I miss him every day.
The Ventures were another influence, no?
Yes, an early influence. I remember seeing Elvis on TV, and it did something to me; The sound of the blues was coming through that. That sent me on a search for blues, and I had to discover it because it wasn't easy for me at that time. Blues was underground, you know? It was kind of hard to find.

As far as early influences and blues, the guys that got me interested was Chuck Berry, B.B. King, and Fats Domino. I love Fats Domino. We were getting a lot of records at Woolworth's, at the store here where I lived in Wisconsin. It had three for 99 cents, and I think Chess Records, whatever they didn't sell, they'd just give to Woolworth's. I bought my guitar one week, and the next week I went and bought 20 albums. They were all Chess Records: Chuck Berry, Muddy Waters, and Bo Diddley; and I just sat down and played along with them.
I know that you are primarily involved in Chicago blues, but did you ever get involved with the music of Charlie Patton, Robert Johnson, Robert Nighthawk, or even Jelly Roll Morton, or any other artists on the Paramount Records label?
Sure. Early on too, on the radio, there was a blues show that I would hear, and they played all old acoustic blues, and I loved that. That sparked my interest, and through the years I'd go listen to like, Big Bill Broonzy. My favorite acoustic artists were Tampa Red, Big Bill Broonzy, and Lonnie Johnson.

You could hear how those guys could make their single strings stick out. Most guys were playing a lot of chords and runs, but certain guys like Tampa Red and even early Robert Nighthawk, they had a way of making their strings sing. Their guitar was saying something.

Another one of my favorite acoustic guitarists is Lightnin' Hopkins. And Also, Melvin 'Lil' Son' Jackson, from Texas.
You've worked with Mississippi Heat. What's that like, working with that level of talent?
One of the members of that band [Mississippi Heat], James Wheeler, is an incredible guitar player and he was great to work with. Of course Bob Stroger, we'd worked together before, and Allen Kirk was the drummer, and I feel like he's my brother. We were on the road together a lot, and he looked out for me. Dietra [Farr], she's on my new record. Pierre and his brother Michel [Lacocque], they put the whole thing together, so I respect them for that. They put it out there and kept it going. Things change, and people come and go, and you have to keep it going. You move on.
You've said that "A lot of people think that bands always have the same members. In the blues, that's what always made it interesting." You told how you'd go to see a band or group, and after a while, you didn't know who was gonna be playing because people would come and go.
It was always interesting. To a degree, it's still the same way. One thing that I've learned through the years is that whoever's leading the band, can draw what they can out of the people to get them to play their music. Or, [they] work with what's going on around them and make it theirs. So, that's the thing that I was amazed at was I would see different artists, but yeah, they always sounded like them. It was refreshing. Whatever was going on around them, they reacted to it, and it still sounded like them.

If you listen to Magic Sam's record "Give Me time," it's just by himself, but you don't miss the band while he's playing. He's really rhythmic.
If you listen to his Live at the Avant Garde, there are places where he carries the song for a bit, and the band seems to almost fade, and it's almost a surprise when you realize the band is there again, because he has you so in the groove.
A lot of these guys did a lot of touring and a lot of gigging. I read something in an interview with him, or maybe it was Otis Rush, where he said at the clubs they would take a nap in the corner because they'd be working gigs and if somebody sat in they might just take a nap for a minute.
Well, yeah. They were driving themselves on their road stints to and from gigs, so they weren't getting a whole lot of sleep! You once told me you enjoy performing and sessions work about equally because you love doing both. Is that still the case?
I'd say that's still the case. Even though I do a lot more live performing than I do recording, I like them both the same because they're different ways of doing music. The recording thing is something that I've always loved since I started. Sounds are fascinating to me, so to be part of the process is a real enjoyment for me because it's a challenge to play somebody's music, to make this thing together that we all can be proud of.
Let's talk about your new album, Lonesome Highway for a minute.
I'm very happy that Delmark Records released my CD, and the reaction has been very positive to it. I think it's been very good for me and my songwriting is featured on 16 of the tracks. That's something that I've always wanted to do, to get my songs recorded. Fortunately, a lot of people hear them, and then they themselves become interested in the songs. That's always flattering to me that they would want to record my songs.

Working with Dick Shurman and Steve Wagner at Delmark was a real pleasure for me. They brought out the best in me.
They do great work.
To keep a label going as long as they have is something. They still make great records.
Jack White has taken a great interest in and put forth a great deal of effort to preserve the music and the legacy of the artists that populated the Paramount Records label. Why do you believe it is so important to hear this music and in their turn, continue these kinds of efforts to preserve the music and legacy of the Paramount label and artists?
It's nice to hear people that listen to this music and are artists take a little bit of it and make something on their own with it. It's not like you could just listen to a contemporary artist and be influenced by them. That would be too noticeable. So if you could take something back in history, and add something new to it, that's just not a common place to go for influences. I think it's a good place to go to get stuff. That's one take on it.

The other thing is the respect for the artists that recorded this music and listen to the stories, what was going on at the time, just as it would be to think about any other points in history that. Music is important; it documents the times and the stories of the artists that came from Mississippi to Wisconsin to record. So, that in itself is an interesting aspect of it too.
You're pretty fortunate. You've been able to work with not only some of the greatest Chicago players, but jazz players and blues players, and even rockabilly players on occasion. That has to be rewarding for you.
Yeah, it is. I'm pretty much fearless; I'm ready to give anything a try.
What is your involvement with the Blues In Schools or any similar programs?
Very much so. I just did the Chicago Blues Camp this year, which was a great experience for both the educators and the students. It was a week long, and during the [Chicago] Blues fest week, so it was quite nice. I had John Primer and Rick Kreher and Tom Holland as my guests. I've been involved in the blues in schools in Chicago, I mean not all the time, but over the years I've done a lot of them. I've done some at the blues festivals.  I was also involved for two years as a teacher for the acoustic blues in Port Townsend, Washington. I did a video with Steve Guyger who is a blues harmonica instruction.
Thanks for taking time with us. Always a thrill to talk with an artist I've been listening to for many years. I would also like you to know that that time when you signed my guitar in Chicago, I was thrilled; like a little kid at Christmas.
It's a thrill for us too because musicians want to be heard and with the blues, it's an expression. I learned from Jimmy Dawkins and Jimmy Rogers, and Johnny Littlejohn. It seemed like I played with them, and they gave me a little piece of them[selves]. It's there, but you have to recognize it for what it is. They gave me a piece of themselves, so for us to be able to have this conversation through an interview, is a great, pleasurable thing for me too.