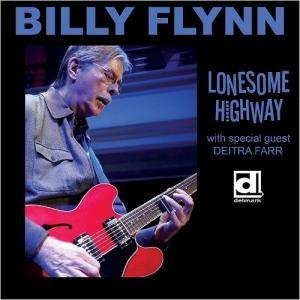 Billy Flynn is one of the best known names in blues music, at least among other blues artists. Now, a Grammy-winning guitarist, around 1970, at the age of 14, Flynn was discovered playing outside a Green Bay, Wisconsin club. The man who noticed him, and invited him to join in on stage, was none other than Jimmy Dawkins. Dawkins had released his Delmark Records debut, Fast Fingers, a year prior. Five years later, Flynn joined Dawkins' band full-time, becoming a dear friend and musical disciple.
On March 17th, Flynn's own Delmark debut, Lonesome Highway, hit record store shelves. In the time since that chance meeting, Flynn has escalated to near living legend status. He's been a first call guitarist for artists including Billy Boy Arnold, Kim Wilson, Mississippi Heat, and dozens more. Flynn has also established himself as a first rate vocalist, songwriter and bandleader. A expert on several roots instruments and styles, he is a walking encyclopedia of blues, able to channel the masters at will. Yet, all the while, maintaining his own trademark style.
The recent ghost of Chuck Berry whirled from the speakers the moment we hit play. On, "Good Navigator, " the combination of lead and rhythm guitar parts are uncanny. Flynn's vocals are strong and clear. The welcome addition of Deitra Farr, on second vocals, created a runaway dance hit, reminiscent of the thousands of halls that Chuck, himself, played. Farr, a Chicago soul, blues, and gospel great in her own right, appears again halfway through the record on, "Hold On." This time, it's a true duet with Flynn also demonstrating his killer harmonica skills.
Flynn's ability to convey the vibe of past genius artists is prevalent throughout the entire offering. The title track, as well as "If It Wasn't For the Blues," are solid, West Side Chicago. His piercing, grungy guitar conjures the spirits of Otis Rush, and Dawkins respectively. On "Small Town," he recreates the crying slide of Earl Hooker, while John Lee Hooker's influence is spread all over the foot stomping, "Waiting Game." All of this is on just the first half of this extended 17 track release.
Flynn has also successfully surrounded himself with top-notch musicians. Roosevelt Purifoy supplies piano, organ and Rhodes, while E.G. McDaniel on bass, and drummer, Andrew "Blaze" Thomas make up the rock solid rhythm section. The first-class horns of Doug Corcoran, and Christopher Neal, nicely add to the Second City feel. Chicago blues veteran, Dave Katzman, plays rhythm guitar on "The Lucky Kind," which also features a wonderful trumpet solo from Corcoran. This hand-picked group of artists all brought their A games to Delmark's Riverside Studios, for a monster session back in October. 17 songs recorded in just two days, demonstrates the professionalism and dedication of all involved.
This is a literal cornucopia of great Chicago blues, all written by Flynn himself. The only exception to that rule, is the brilliant instrumental cover of Billy Page's "The 'In' Crowd." Sans the Dobie Gray vocals that first made the song famous, Flynn's version is even funkier. He was able to take the Motown feel of the original, and crank it up to 11. His original instrumental, "Blues Express," had us wanting to do The Stroll across the nearest dance floor. "Hey!"
Self produced, along with Dick Shurman, and Steve Wagner, Lonesome Highway, is a true celebration of Billy Flynn's 60th trip around the sun. Many of the songs were shared with Jimmy Dawkins before his tragic passing in 2013. He offered his advice, and Flynn truly honors his mentor with this one. Sure to be a Delmark classic!
Artist: Billy Flynn
Title: Lonesome Highway
Label: Delmark Records
Tracks: 17
Running Time: 1 hr. 10 mins