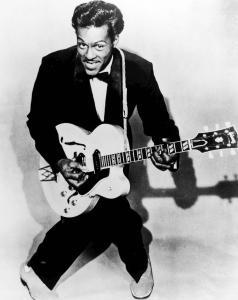 St. Charles, MO –  Chuck Berry, founding father of what came to be known as Rock 'n' Roll, has died. He was 90 years old. Berry was a guitarist, singer, and composer, penning hits that are now standards and rites of passage for each succeeding generation of performers. Included in this list of hits are "Johnny B. Goode," "Rock and Roll Music," "Nadine," "Maybellene," and "Sweet Little Sixteen."
With lyrics that are universally youth friendly, a unique style of guitar that allowed him to drop in and out of the rhythm playing as he inserted leads and fills at will, and a distinct, animated stage performance presence that included his signature "Duck Walk," Berry proceeded to turn what was then "rhythm and blues" on its collective head.
A house built upon a strong foundation is destined to stand for a long time, and Berry helped lay the foundation of the house that has become rock 'n' roll. In 2003, he told the New York Times of his music, "I made records for people who would buy them. No color, no ethnic, no political — I don't want that, never did."
Even today, Chuck Berry's influence can not be understated. Ted Nugent has stated, "If you don't know every Chuck Berry lick, you can't play rock guitar." When writing in Rolling Stone magazine's 100 Greatest Artists, which listed Berry at number five, Joe Perry said, "…Chuck Berry was a showman: playing the guitar behind his head and between his legs, doing the duckwalk. It's not like you could close your eyes and hear his playing suffer because of it. He was able to do all that stuff and make it look like it was so easy and natural."
He was born Charles Edward Anderson "Chuck" Berry on October 18, 1926 in St. Louis, Missouri. His family was middle class and he was interested in music from an early age, and his first public performance was in high school. He was convicted of armed robbery while still attending high school and was held in a reformatory from 1944 to 1947.
Upon his release, Berry found work in an auto plant. In 1955 he met Muddy Waters in Chicago, and following his suggestion, he contacted Leonard Chess of Chess Records and with them he recorded "Maybellene," which went on to sell well over a million copies. As the 1950s wore on, Berry had a number of hits and a successful touring career.
Once again in 1962 he found himself in legal trouble and was sent to prison for three years involving offenses under the Mann Act for transporting a 14-year-old girl across state lines. Upon being released in 1963 Berry again had hit songs, now with Mercury Records including "Nadine," "No Particular Place to Go", and "You Never Can Tell."
"It started with Chuck Berry. He inspired us all. The 1st album I bought was Chuck's "Live at the Tivoli" and I was never the same." – Rod Stewart
During the 1970s, Berry spent a lot of time touring, playing with local bands as his back up. Having backed him up during this period were the likes of Bruce Springsteen and the Steve Miller Blues Band, who were his backing band when he had recorded the 1967 by Mercury Records release, Live at Fillmore Auditorium. During the filming of the 1986 Taylor Hackford documentary Hail! Hail! Rock 'n' Roll, Springsteen had pointed out that Berry never provided a set list for performances and he expected his back up band(s) to just follow his cues, which didn't always work so well.
"Chuck Berry was rock's greatest practitioner, guitarist, and the greatest pure rock 'n' roll writer who ever lived." – Bruce Springsteen
Also during the early part of the decade, Berry had returned to Chess Records, releasing Back Home in 1970. In 1972 the label released a live recording of "My Ding-a-Ling," which became Berry's only number one hit, both in the U.K., and the US. The album from containing the single, The London Chuck Berry Sessions, was also issued in 1972. The final work Berry executed for Chess was the 1975 album Chuck Berry.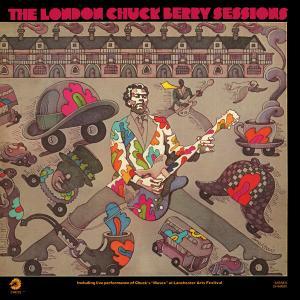 1979 Proved to be a particularly eventful year for Berry as June witnessed him playing the White House at President Jimmy Carter's request. Also that year, Atco Records released Rock It, the last studio album to be released in his lifetime. Later that same year however, Berry again found himself in trouble with the law, this time with the IRS specifically. Eventually he pled guilty to tax evasion stemming from his touring wherein the promoters had paid him in cash. His sentence was four months in prison, and 1,000 hours of community service, which was basically performing benefit concerts.
"All of us are footnotes to the words of Chuck Berry." – The great and wise Leonard Cohen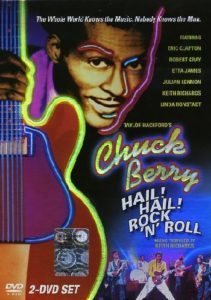 Berry continued to play live performances throughout the 1980s where he used local bands as his backup. In 1986 Berry granted Taylor Hackford access and he filmed the documentary Hail! Hail! Rock 'n' Roll, which featured interviews conversations with Keith Richards, Eric Clapton, Bruce Springsteen, Berry himself, and many other artists. The film was intended to be a celebration of Berry's 60th birthday and also featured concert rehearsals, as well as actual concert footage from the show at the Fox Theatre in St. Louis.
In 1986, Chuck Berry was inducted into the Rock and Roll Hall of Fame by Keith Richards as a member of its inaugural class. During the ceremony, he was credited as having "laid the groundwork for not only a rock and roll sound but a rock and roll stance."
In 2008 Berry spent the year touring in Europe. He had to be helped from the stage in Chicago New Year's Day 2011, suffering from exhaustion. On October 16th, 2016, it was announced that Berry would release a new album, his first in 38 years, simply titled Chuck. Berry said that the album was dedicated to his wife of 68 years, Themetta. The album is supposed to be released sometime in 2017, and features Berry's son Charles Berry Jr. on guitar, and his daughter Ingrid Berry playing the harmonica.
Along with his induction into the Rock and Roll Hall of Fame, other notable honors include having his "Johnny B. Goode" included on the Voyager Golden Record. It is the only rock 'n' roll song so honored. "Johnny B. Goode", "Maybellene", and "Rock and Roll Music" are included on the Rock and Roll Hall of Fame list, "500 Songs That Shaped Rock and Roll." In 1984 he received the Grammy Lifetime Achievement Award, and in 2000 the Kennedy Center Honors.
Perhaps John Lennon summed things the best when he opined: "If you had tried to try and give rock 'n' roll another name, you might call it 'Chuck Berry.'"