It was 90 years ago, today, that Charles Edward Anderson Berry was born in St. Louis, Missouri. The great-grandson of slaves, Chuck Berry grew up to become the "Father of Rock & Roll," and one of the most influential artists, ever. Berry was the catalyst that would integrate musical styles, as well as the races, cranking out hit after hit, for anyone who would buy his records. To celebrate his 90th birthday, we've compiled a list of lesser known facts about the man, and the artist.
1. Berry was raised in a segregated, middle class, neighborhood of North St. Louis, known as "The Ville." The area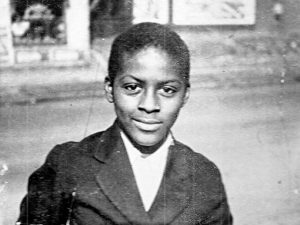 was so segregated, in fact, that he didn't encounter a white person until he was three years old. It was then he witnessed several white firefighters battling a large blaze. According to Berry, "I thought they were so frightened that their faces were whitened from fear of going near the big fire."
2. Chuck's father, Henry Berry, was not only a carpenter, but deacon of the Antioch Baptist Church. It was there that the young Berry started singing in the choir at the age of six. Later, he attended Sumner High School, where, in 1941, he sang the Jay McShann song, "Confessin' the Blues," at the annual talent show. The school administration was less than impressed with his song choice, but the student body loved it, sparking the young man's interest in learning guitar.
3. Berry is well known for his run-ins with the law. His first time in jail was at the age of seventeen, when he and some friends went on a robbery spree in Kansas City, with a gun they found in a parking lot. Convicted of armed robbery, he was given the maximum sentence of 10 years, to be served at the Intermediate Reformatory for Young Men, near Jefferson City, Missouri. During that time, he joined a Gospel group and also took up boxing, fighting under the name, Wild Man Berry. He was released after 3 years on his 21st birthday.
4. On New Year's Eve, 1952, a member of the Sir John Trio, led by pianist, Johnnie Johnson, fell ill and was unable to perform their gig at the Cosmopolitan Club in East St. Louis. Johnson knew that Berry was still a relatively inexperienced guitarist and probably wouldn't have a gig that night, so he called him to sit in. Berry's vocals and flamboyance impressed the band, as well as the crowd, and Johnson added him as a full time member of the group. So began a long, musical relationship between the two.
5. The music known as "hillbilly," was the favored music among whites in the area, at that time. Berry began adding up-tempo country songs to the Trio's repertoire of ballads and blues. It wasn't long before white patrons heard the rumors of a black hillbilly, and began coming to their shows, integrating the predominantly black club. The black audience members, who first laughed at his attempts, soon found themselves requesting the hillbilly songs as well, dancing to the beat.
6. In May, 1955, Berry, at the suggestion of Muddy Waters, auditioned for Leonard Chess at Chess Records in Chicago. It was his reworked version of the Bob Wills song, "Ida Red," which Berry had renamed "Ida May," that caught his attention. Thinking the title sounded too rural, Chess spotted some mascara in the studio and suggested they call the song, "Maybellene," changing the spelling to avoid a lawsuit from the cosmetics company. The song, which was dripping with teenage interest in cars and sex, was recorded by the Trio along with Willie Dixon on bass and Jerome Green, (from Bo Diddley's band), on maracas. In order to get the song more airplay, Chess gave a copy to disc jockey, Alan Freed. Unbeknownst to Berry, he also gave Freed and his associate Russ Fratto, two thirds of the writing credits to compensate them. "Maybellene," became Berry's first hit, scoring on the R&B, Country, and Pop Charts and selling over one million copies by the end of the year.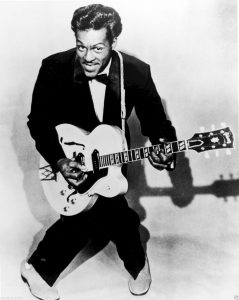 7. Berry's last studio recording was the album, Rock It, released on the Atco Records label in 1979. He has released several live and compilation albums since that time.
8. Chuck Berry wrote dozens of hit songs that were covered by other artists. Some of these include, "Roll Over Beethoven," "Brown Eyed Handsome Man," "Rock and Roll Music," "Little Queenie," "Memphis, Tennessee," and "Promised Land." His only Number One hit, however, came in 1972, with his live version of the Dave Bartholomew novelty song, "My Ding-a-Ling."
9. Outside of the music business, Berry has owned several businesses in and around the St. Louis area. His first endeavor, the fully integrated, Club Bandstand, was opened in the upscale, St. Louis Theater District in 1958. He was, shortly thereafter, convicted of violating the Mann Act, when an underage Native American girl he had hired, and subsequently fired, was arrested for prostitution at a local hotel. Compelling evidence has been provided that his conviction was, in fact, an act of systemic racism against Berry. Wealthy locals were enraged that he had the gall to open an integrated nightclub in the most prosperous and lavish part of the city. Regardless of the reasoning, it spelled the end of Club Bandstand. His second purchase was Berry Park, a 30 acre plot near Wentzville, Missouri, that originally featured 2 guest cottages, a nightclub and guitar shaped swimming pool. Although still Berry's primary residence, it is no longer open to the public. In the 1980s, Berry purchased the historic restaurant, The Southern Air, in Wentzville. A 1990 class action suit against him for allegedly videotaping female employees and customers, caused Berry to sell the establishment. It is now a satellite campus of Lindenwood University.
10. For several years, Berry toured alone, with just his guitar. He would hire local musicians at each tour stop, to save the cost of touring with a full band. A local promoter would make all the arrangements, and Berry would show up, usually minutes before the show, without rehearsal, and instruct the band to watch his leg for cues. These shows were generally disappointing to his fans, and were eventually stopped.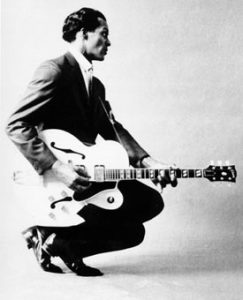 11. Berry emulated the showmanship of guitarists such as T-Bone Walker, but his signature move on stage, the "duck walk," was actually a fluke. At a show in New York, in 1956, he used the move he had begun as a child, in order to hide the wrinkles in a rayon suit he was wearing. The crowd went nuts, giving him a standing ovation, so he continued doing it for the rest of his career.
12. Chuck Berry was inducted into the Blues Hall of Fame in 1985. The following year, Keith Richards inducted him into the Rock and Roll Hall of Fame, saying, "It's very difficult for me to talk about Chuck Berry 'cause I've lifted every lick he ever played." Almost every legendary rock band to follow him, including the Beatles, Rolling Stones, Bob Seger, and Aerosmith, all give credit to Berry for their early sound. John Lennon once said, "If you tried to give rock and roll another name, you might call it 'Chuck Berry'."