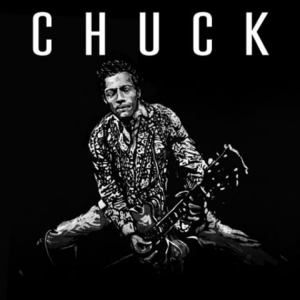 Chuck Berry, one of the founding fathers of Rock and Roll, chose today, his 90th birthday, to announce a new album is forthcoming. The new album, Chuck, is Berry's first new album in 38 years. The album is scheduled for release in 2017 on the Nashville label, Dualtone.
The guitar icon dedicated the new album to Themetta Berry, his wife of 68 years. "This record is dedicated to my beloved Toddy. My darlin' I'm growing old! I've worked on this record for a long time. Now I can hang up my shoes!"
Berry, who wrote the songs and produced, is joined on the album by drummer Keith Robinson, pianist Robert Lohr, and bassist Jimmy Marsala. Two of his children appear on the album as well; Charles Berry Jr on guitar, and Ingrid on harmonica. Charles feels honored saying, "What an honor to be part of this new music. The St Louis band, or as dad called us 'the Blueberry Hill Band,' fell right into the groove and followed his lead. These songs cover the spectrum from hard driving rockers to soulful thought provoking time capsules of a life's work."
Berry has earned a Grammy Lifetime Achievement Award, and in 2000 he was selected as a  Kennedy Center Honors recipient. When the Rock and Roll Hall of Fame opened its doors in 1986, Berry was one of the first ten inductees.