Editor's Note: We continue our honoring of this year's Blues Hall of Fame inductees with 10 things you may not know about quintessential Chicago bluesman, Morris "Magic Slim" Holt.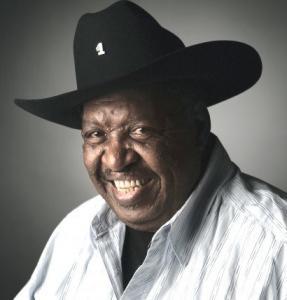 1. Morris Holt was born on August 7th, 1937 in Torrance, Mississippi. Like many other families, the Holts moved to Grenada when Morris was young. He was dubbed "Magic Slim," by his childhood friend, Sam Maghett, who had moved to Chicago in the 50s, and received the name "Magic Sam." The complimenting monikers weren't the only thing the two guitar slingers had in common. They were born the same year (Sam being only 6 months older), in places that now lay submerged beneath Grenada Lake. Both young men grew up singing in church, and playing country music, which was more popular than the blues at the time. They were also both completely fascinated by the John Lee Hooker song, "Boogie Chillen."
2. Slim's first instrument was the church piano. He also fashioned a homemade diddley bow, with a single piece of wire, strung between two bottles. He was fast becoming an accomplished pianist, when a cotton gin accident at age 14, took the pinkie finger from his right hand. Influenced by artists such as Rufus Thomas, and Willie Mabon, he began taking guitar lessons from his uncle, bluesman, Walter Miller.
3. Recognized, along with this band, The Teardrops, as one of the last great Chicago blues bands, Slim wasn't always so lucky in the Windy City. He first moved to Chi-Town in the mid 1950s, and played bass for Magic Sam's band. Unfortunately, his talent wasn't quite up to par with the exploding Chicago blues scene. He returned to Grenada, where he taught his younger brothers, Nick, and Douglas "Lee Baby" Holt to play. Among his other jobs back home, were hauling and selling wood with his step-father, and bootlegging whiskey.
4. His recording career began, back in Chicago, in 1966, when he recorded a handful of singles including, "Love My Baby," and, "Tonight I Learn," for the Ja-Wes label. He was playing guitar for Robert "Mr. Pitiful" Perkins & The Teardrops. When Perkins left the group, Slim took over as bandleader, playing gigs and recording on compilation albums, while grooming what would become the "quintessential" Chicago blues band.
5. In 1977, with both younger brothers now with the band, and Alabama Jr. Pettis on second guitar, Slim recorded his first full length album. Born On a Bad Sign, was recorded live, at Ma Bea's in Chicago, on November 9th, 1976. The album had seven tracks, five of which were written by Holt himself. The other two were covers of the St. Louis Jimmy Oden classic, "Goin' Down Slow," and B. B. King's, "Rock Me Baby." Originally released on the French label MCM, it was re-released by Storyville Records, in 2013, with five additional tracks.
6. Magic Slim released no fewer than 36 albums in his lifetime, on labels such as Rooster Blues, Black and Blue, Alligator, Wolf, and Blind Pig Records. He had developed a trademark sound, accomplished by taking any song, and transforming it into a heaving blues shuffle. His penetrating guitar licks punctuated the music. Slim was also a walking, guitar playing, encyclopedia of music, with an ability to play nearly any song upon request. His musical repertoire counted in the hundreds. Holt's live performances were rarely duplicated, and never monotonous.
7. Shortly after the release of his first album, Holt began touring Europe. Around that same time, he developed a rabid following in Lincoln, Nebraska. Always a primary stop on the touring circuit, Lincoln is a college town with several clubs featuring blues acts. Most notably, the ZOO Bar, booked Slim often, and the crowd were absolute fanatics for his music. He was so well received, and loved in Lincoln, that Holt moved his family, and his band to the Nebraska town in 1994. One local group, the Kris Lager Band, often performed with Slim, and featured him on the song, "Kris Done Took My Woman," from their 2012 CD, Swagadocious.
8. Magic Slim & The Teardrops were influential outside the world of blues music as well. At first, other musicians began to take note of his genre-bending abilities. Pearl Jam frontman, Eddie Vedder, was a fan, and at the pinnacle of their career, in 1994, they requested Slim open for them in Chicago. Chicago Blues All-Stars and Muddy Waters Band veteran, John Primer, joined The Teardrops in 1982. He stayed for 13 years, recording and touring with the band. In 2013, when Slim's son, Shawn Holt, had taken over as bandleader, Primer was a special guest on their debut album, Daddy Told Me. Magic Slim also recorded with artists such as Popa Chubby, Billy Branch, James Cotton, Elvin Bishop, Lonnie Brooks, and many more over his nearly 60 year career.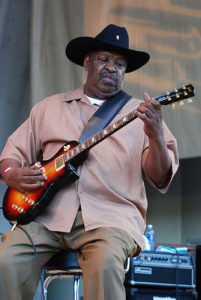 9. Winning his first W. C. Handy Award (Blues Music Award) in 1981, Magic Slim & The Teardrops won "Best Blues Band of the Year," no fewer than six times, garnering over 40 nominations in the first three decades of the awards' existence. His final BMA, for "Traditional Blues Male Artist," was awarded posthumously, in 2013. Suffering from bleeding ulcers, heart, lung, and kidney problems, all while on tour, Morris "Magic Slim" Holt died on February 21st, 2013, at the age of 75.
10. On July 25th, 2011, the Mississippi Blues Trail established a marker for Magic Slim on Union Street in downtown Grenada. The Holt family had lived at 818 Union while Slim was growing up, and his mother ran a cafe just down the street. The marker for his friend, and mentor, Magic Sam, is located in the Knoxville community, five miles East of town.