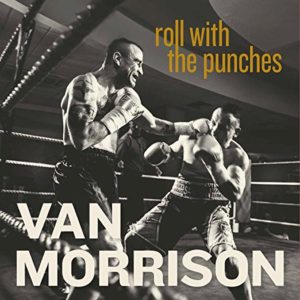 The 37th studio album from transcendental artist, Van Morrison, hits the streets on September 22nd. Roll With the Punches is a 15 track, double LP offering via Exile/Caroline. Five of the songs were written by Morrison, including the first single, "Transformation." The other two-thirds of the record is devoted to his interpretation of blues, R&B, jazz, and gospel classics, the music that first fueled him.
"Transformation" features collaborator Chris Farlowe providing backing vocals, jazz great Jason Rebello on piano, and celebrated guitarist, Jeff Beck. The video below, which accompanied the single release, was filmed at Morrison's recent gig in London's Porchester Hall.
"From a very early age, I connected with the blues," Morrison said in a press release. "The thing about the blues is you don't dissect it; you just do it. I've never over-analyzed what I do; I just do it. Music has to be about just doing it and that's the way the blues works—it's an attitude. I was lucky to have met people who were the real thing, people like John Lee Hooker, Jimmy Witherspoon, Bo Diddley, Little Walter and Mose Allison. I got to hang out with them and absorb what they did. They were people with no ego whatsoever and they helped me learn a lot."
In paying tribute to his early influences, Morrison covers songs by Bo Diddley, T-Bone Walker, Don Pomus, Count Basie, Sam Cooke, Sister Rosetta Tharpe, Rudy Toombs, Lightnin' Hopkins, Mose Allison, and Little Walter.
"The songs on Roll With the Punches, whether I've written them or not, they're performance oriented," he adds in the statement. "Each song is like a story and I'm performing that story. That's been forgotten over years because people over-analyze things. I was a performer before I started writing songs and I've always felt like that's what I do."