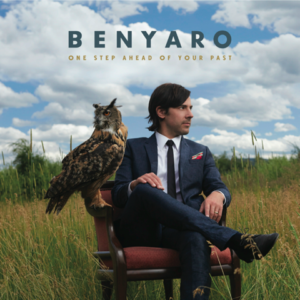 Evolving from drummer and guitarist for other bands to composer and lead vocalist of Benyaro, Ben Musser has always trusted his instincts. He escaped to Jackson Hole, Wyoming from the fray of major music industry hubs that he found were spinning out generic sounds. Musser gleaned inspiration from his new surroundings, and a growing circle of contemporary artist friends, developing an authentic, unique voice.
Benyaro is the indie roots project of the seclusive musician, and his third original, full-length album, One Step Ahead of Your Past drops on September 8th via Mohinga Music. The LP was co-produced with Danny Kadar (The Avett Brothers, My Morning Jacket, Band of Horses). Recordings were accomplished at legendary Echo Mountain Recording in Asheville, North Carolina, and Musser's home studio in Wyoming.
One Step Ahead of Your Past is an audible journey down the periscope of Musser's young marriage, and voyage into fatherhood. In his own words, "a deeply personal collection of tunes from a period in which I became a husband and a father." Filled with hooks both musical and lyrical, the songs explore the profound, vibrant, and mundane with humility and humor, acting both as mirror and prism of a life once out of site, but which now envelops the artist. "New Moon," is one such song. "A fun, soul-jam about my lady, who shines brightest when I shut my mouth," says Musser. "Just like the stars look brightest and best when it's a new moon. Humility, y'all. It's the new sexy."
Multi-instrumentalist Musser composed the thirteen punk-Americana tracks that comprise the record. For the first time, his longtime tour mate, upright bassist Leif Routman, joins on the recording. Additional guest musicians include Jacob Rodriguez (Michael Bublé) on tenor and baritone saxophone, and NYC's Brian Geltner (Johnny Society) on drums.
Boarding school in Pennsylvania, frat houses and dive bars in Nashville, flipping burgers and playing clubs in Austin, busking the dank subways of New York, soaking up the heavenly mountains of Jackson Hole; this is the bizarre path that fate has unfolded for Ben Musser. Yet along the way he worked at Columbia Records, played shows with Gary Clarke Jr, started bands with Ross Flornoy of the Broken West, worked passionately with the great singer/songwriter Malcolm Holcombe, and discovered the feisty Americana sound of The Avett Brothers.
Co-producer Kadar reflects, "All the love, angst, apprehension, jealousies, and joyful struggles that go with the beginnings of a family are touched upon. There's an edge to the songs that belies the tender nature of the album. The humor may be cutting, but it is genuine. The sweetness of the love songs is never saccharine. This is a real accounting of love, marriage, and family." The arc of the album reflects this journey; keeping (cheekily) one step ahead of Musser's past.