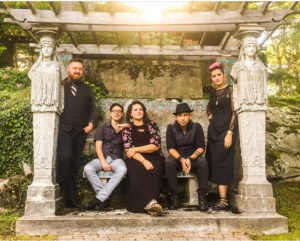 I recently had the opportunity to interview Jeremy Kelley and Abigail Cosio of Bon Bon Vivant, an up-and-coming Gypsy Jazz band out of New Orleans. I have also included some thoughts on their charming first album, Paint & Pageantry.
Chris Giocondo for American Blues Scene:
Where did the band meet?
Jeremy Kelley and Abigail Cosio of Bon Bon Vivant:
Bon Bon Vivant includes members: Jeremy Kelley, Abigail and Glori Cosio, Ry D'Antonio, Ryan Brown, and Mike Robbins. Glori and Abigail are sisters who grew up singing together in California. In 2004, Abigail met Jeremy, and the two started dating and playing music together in Los Angeles. In 2009, Jeremy, Abigail, and Glori moved New Orleans where they met Ry, Ryan, and Mike making music around town. The six united to form Bon Bon Vivant. Their first show together was a performance during Fringe Festival in New Orleans. The band played on and later produced their first EP, 'Evangeline.' In November 2016, Bon Bon Vivant released its first full length album, 'Paint & Pageantry.'
Where did the name, Bon Bon Vivant come from?
Bon Vivant is French for someone who lives well and enjoys the finer things. The band loves the phrase, as well as the concept of living well and celebrating life's indulgences, so they chose Bon Bon Vivant as their own spin on the idea.
What large venues has the band played?
Bon Bon Vivant played the French Quarter Festival, South Sounds Festival, New Orleans Film Festival at The Orpheum, Clifton's in DTLA, and the House of Blues in New Orleans and Boston.
Has the band opened or played with any larger acts?
They've shared a bill with Dirty Bourbon River Show, Hydrogen Child, and the Dirty Dozen Brass Band.
Is there anything coming up for the band that you would want to share?
The band is currently touring the east coast, which started in Boston, en route back to New Orleans. The month of August will be spent in a residency at d.b.a on Frenchmen Street. In September, Bon Bon Vivant will tour the west coast, with dates and locations still in development. Also in the fall, the band will return to the studio to begin work on their second full length album.
What types of music or what artists do you listen to?
The band members bring a lot of unique influences to the table, rooted in its six individual tastes. Abigail, the songwriter, comes from a folk, Americana background. She and her sister, Glori, were raised on hymnals and church songs, but other strong influences include the Andrew Sisters, Boswell Sisters, Nina Simone, and Sister Rosetta Tharpe. Jeremy, Ryan, Ry have backgrounds in gypsy jazz, gospel and indie rock.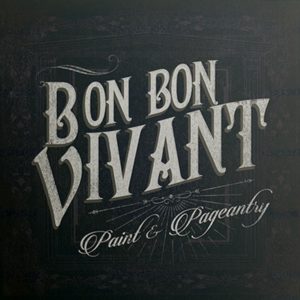 To follow up on my interview, I had the chance to review the tracks of Paint & Pageantry, the first full length album from Bon Bon Vivant.  Here are my thoughts on some of my favorite songs.
The album starts with a bang in the song, "Lost Soul." This tune has fun saxophone solos and great lyrics to celebrate the glorious dead of New Orleans. In the title track, "Paint and Pageantry," the momentum slows to a painful ballad of loss and the winding road to healing.
The tempo returns with "Hard Way of Livin' When You're Dead," shouted straight from a sarcophagus of a French Quarter cemetery. It was "Rio Grande" that began my love affair with Bon Bon Vivant. The song is a story of kindred spirits who live like they're dying, saving souls and spreading joy on the way to their own damnation.
Finally, the album ends with my favorite track, "Poplar Tree." This tragic tale is filled with a darkness so real, you can feel it in your belly. "Poplar Tree" ends with closure to not only a torn love story but also this lovely album by Bon Bon Vivant.
Paint & Pageantry can be found on iTunes, Spotify, or wherever CD's are sold (if that place still exists). If you're looking for an authentic New Orleans sound, then I strongly suggest you give it a listen… You won't be disappointed.