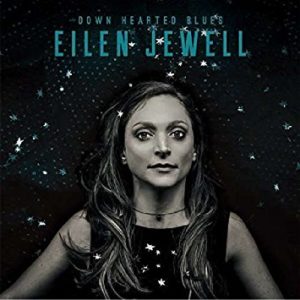 Honesty, confidence, and respect have always permeated the music of Eilen Jewell, dating back to her self-released Boundary County album in 2006. After releasing five additional albums of critically acclaimed original songs, the reigning "Queen of the Minor Key" is taking a moment to shake hands with the blues. Her latest release, Down Hearted Blues, hits the streets on September 22nd, via the Signature Sounds label.
Jewell's new collection of twelve rare, bold blues and R&B covers adds to her potent mix of classic country, folk, and early rock 'n roll inspired original music. From the barrelhouse power of 1920's Bessie Smith to the electrified sounds of 1960's Betty James, blues music has always been a strong influence on the Boise, Idaho native.
On Down Hearted Blues, Jewell and her long-time road band (Jerry Miller, Shawn Supra, Jason Beek) rip through greasy versions of dark blues like Charles Sheffield's "It's Your Voodoo Working," Willie Dixon's "You Know My Love," and Albert Washington's "One of These Days." The band also strips down the sound, trading in drums and electric instruments for washboards, mandolins, and banjos to cover songs like Memphis Minnie's "Nothing in Rambling," Bessie Smith's "Down Hearted Blues," and Moonshine Kate's "Poor Girl's Story."
For over a decade Jewell has taken her brand of sultry surf-noir, and dynamic Americana music to cities from Melbourne to Madrid to Manhattan. Her subtle but powerful musical approach, combined with her warm stage presence and evocative original lyrics, continue to gain her the loyalty of fans worldwide.
"I've been a fan of early blues music since I was a teenager and I credit blues music as being one of the first things that got me interested in music in general," she says. "So I felt that it's a long time coming. I feel that it's something that I always wanted to do but never let myself do and so finally it just seemed like the right time."