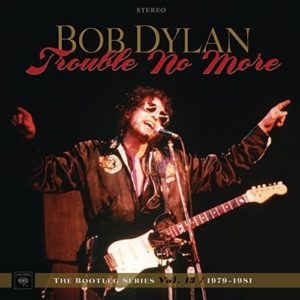 Columbia Records and Legacy Recordings, the catalog division of Sony Music Entertainment, will release Bob Dylan – Trouble No More – The Bootleg Series Vol. 13 / 1979-1981 on Friday, November 3rd.
The latest chapter in Columbia/Legacy's highly acclaimed Bob Dylan Bootleg Series showcases the music Dylan wrote and performed during one of the most surprising, controversial, and inspired periods of his career.
As the 1970s ended and the 1980s began, Dylan responded to the changing of the decades with a three album trilogy–Slow Train Coming (1979), Saved (1980) and Shot of Love (1981)–of spirit-filled songs of praise, worship and devotion. These songs were as deeply personal and packed with poetics as any Dylan had ever written, but the force of conviction and power of faith evident in these performances baffled segments of Dylan's fanbase (just as Dylan's "going electric" had alienated folk purists in 1965).
The previous two volumes in Columbia/Legacy's Bob Dylan Bootleg Series each took home the Best Historical Album GRAMMY® Award for its respective eligibility year: Bob Dylan – The Cutting Edge 1965-1966, The Bootleg Series Vol. 12 in 2017 and Bob Dylan – The Basement Tapes Complete, The Bootleg Series Vol. 11 in 2016.
The live concerts from this crucial epoch in Dylan's history contain some of the most intensely jubilant and transcendent performances of his career. Bob Dylan – Trouble No More – The Bootleg Series Vol. 13 / 1979-1981 offers fans and music lovers the opportunity to fully experience for the first time this extraordinary chapter in Bob Dylan's musical journey.
The deluxe box set includes a hardcover book featuring an introduction by Dylan scholar Ben Rollins with liner notes by Amanda Petrusich, Rob Bowman, and Penn Jillette.
Available exclusively on the deluxe box set is a DVD which includes Trouble No More: A Musical Film, a new feature-length cinematic presentation combining unreleased footage from Dylan's 1980 tours with new material written by Luc Sante and performed by Academy Award nominee Michael Shannon. Directed by Jennifer Lebeau, "Trouble No More" has been selected to premiere at the prestigious 2017 New York Film Festival. Bonus extras on the box set's exclusive DVD include a rare performance of "Shot of Love" from Avignon 1981 and more.
The release will also be available in 2CD and 4LP configurations featuring the first two discs from the deluxe box.
With the exception of "Ye Shall Be Changed," released in 1991 on The Bootleg Series, Vol. 1-3, none of the tracks on Trouble No More have been previously released. This collection debuts 14 previously unreleased songs and a multitude of unreleased live performances, rare studio outtakes and more.
Included in the deluxe edition:
Disc 1: Live
Slow Train (Nov. 16, 1979)
Gotta Serve Somebody (Nov. 15, 1979)
I Believe in You (May 16, 1980)
When You Gonna Wake Up? (July 9, 1981)
When He Returns (Dec. 5, 1979)
Man Gave Names to All the Animals (Jan. 16, 1980)
Precious Angel (Nov. 16, 1979)
Covenant Woman (Nov. 20, 1979)
Gonna Change My Way of Thinking (Jan. 31, 1980)
Do Right to Me Baby (Do Unto Others) (Jan. 28, 1980)
Solid Rock (Nov. 27, 1979)
What Can I Do for You? (Nov. 27, 1979)
Saved (Jan. 12, 1980)
In the Garden (Jan. 27, 1980)
Disc 2: Live
Slow Train (June 29, 1981)
Ain't Gonna Go to Hell for Anybody (Unreleased song – Apr. 24, 1980)
Gotta Serve Somebody (July 15, 1981)
Ain't No Man Righteous, No Not One (Unreleased song – Nov. 16, 1979)
Saving Grace (Nov. 6, 1979)
Blessed Is the Name (Unreleased song – Nov. 20, 1979)
Solid Rock (Oct. 23, 1981)
Are You Ready? (Apr. 30, 1980)
Pressing On (Nov. 6, 1979)
Shot of Love (July 25, 1981)
Dead Man, Dead Man (June 21, 1981)
Watered-Down Love (June 12, 1981)
In the Summertime (Oct. 21, 1981)
The Groom's Still Waiting at the Altar (Nov. 13, 1980)
Caribbean Wind (Nov. 12, 1980)
Every Grain of Sand (Nov. 21, 1981)
Disc 3: Rare and Unreleased
Slow Train (Soundcheck – Oct. 5, 1978)
Do Right to Me Baby (Do Unto Others) (Soundcheck – Dec. 7, 1978)
Help Me Understand (Unreleased song – Oct. 5, 1978)
Gonna Change My Way of Thinking (Rehearsal – Oct. 2, 1979)
Gotta Serve Somebody (Outtake – May 4, 1979)
When He Returns (Outtake – May 4, 1979)
Ain't No Man Righteous, No Not One (Unreleased song – May 1, 1979)
Trouble in Mind (Outtake – April 30, 1979)
Ye Shall Be Changed (Outtake – May 2, 1979)
Covenant Woman (Outtake –February 11, 1980)
Stand by Faith (Unreleased song – Sept. 26, 1979)
I Will Love Him (Unreleased song – Apr. 19, 1980)
Jesus Is the One (Unreleased song – Jul. 17, 1981)
City of Gold (Unreleased song – Nov. 22, 1980)
Thief on the Cross (Unreleased song – Nov. 10, 1981)
Pressing On (Outtake – Feb. 13, 1980)
Disc 4: Rare and Unreleased
Slow Train (Rehearsal – Oct. 2, 1979)
Gotta Serve Somebody (Rehearsal – Oct. 9, 1979)
Making a Liar Out of Me (Unreleased song – Sept. 26, 1980)
Yonder Comes Sin (Unreleased song – Oct. 1, 1980)
Radio Spot January 1980, Portland, OR show
Cover Down, Pray Through (Unreleased song – May 1, 1980)
Rise Again (Unreleased song – Oct. 16, 1980)
Ain't Gonna Go to Hell for Anybody (Unreleased song – Dec. 2, 1980)
The Groom's Still Waiting at the Altar (Outtake – May 1, 1981)
Caribbean Wind (Rehearsal – Sept. 23, 1980)
You Changed My Life (Outtake – April 23, 1981)
Shot of Love (Outtake – March 25, 1981)
Watered-Down Love (Outtake – May 15, 1981)
Dead Man, Dead Man (Outtake – April 24, 1981)
Every Grain of Sand (Rehearsal – Sept. 26, 1980)
Disc 5 – Live in Toronto 1980
Gotta Serve Somebody (April 18, 1980)
I Believe In You (April 18, 1980)
Covenant Woman (April 19, 1980)
When You Gonna Wake Up? (April 18, 1980)
When He Returns (April 20, 1980)
Ain't Gonna Go To Hell For Anybody (Unreleased song – April 18, 1980)
Cover Down, Pray Through (Unreleased song – April 19, 1980)
Man Gave Names To All The Animals (April 19, 1980)
Precious Angel (April 19, 1980)
Disc 6 – Live in Toronto 1980
Slow Train (April 18, 1980)
Do Right To Me Baby (Do Unto Others) (April 20, 1980)
Solid Rock (April 20, 1980)
Saving Grace (April 18, 1980)
What Can I Do For You? (April 19, 1980)
In The Garden (April 20, 1980)
Band Introductions (April 19, 1980)
Are You Ready? (April 19, 1980)
Pressing On (April 18, 1980)
Disc 7 – Live in Earl's Court, London – June 27, 1981
Gotta Serve Somebody
I Believe In You
Like A Rolling Stone
Man Gave Names To All The Animals
Maggie's Farm
I Don't Believe You
Dead Man, Dead Man
Girl From The North Country
Ballad Of A Thin Man
Disc 8 – Live in Earl's Court – London – June 27, 1981
Slow Train
Let's Begin
Lenny Bruce
Mr. Tambourine Man
Solid Rock
Just Like A Woman
Watered-Down Love
Forever Young
When You Gonna Wake Up
In The Garden
Band Introductions
Blowin' In The Wind
It's All Over Now, Baby Blue
Knockin' On Heaven's Door
Disc 9: Bonus DVD
Trouble No More – A Musical Film