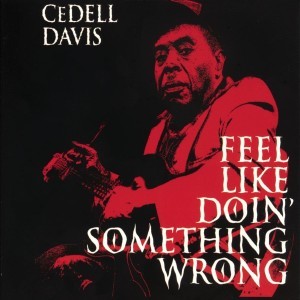 Delta blues guitar giant Cedell Davis has died; he was 90 years old. Davis had been readmitted to the hospital the morning of September 24th, having suffered a heart attack. He had been admitted to ICU earlier in the month with respiratory, and heart issues.
A post on his Facebook page early this morning reads, "Ellis 'CeDell' Davis passed away peacefully this evening, God Rest His Soul. Words can't express the loss that this world has suffered tonight."
Born Ellis Davis on June 9th 1927 in Helena Arkansas, played guitar and harmonica as a youngster with his friends. Davis is known for his unique playing style wherein he used a knife in his fretting hand, somewhat similar to the way one might use a slide. This was the result of him suffering from polio when he was 10, the disease leaving him with negligible control over his left hand and only limited use of his right hand.
Davis became proficient at his method of playing and traveled throughout the Mississippi Delta performing. From 1953 to 1963 Davis played with the legendary Robert Nighthawk. Being based in St. Louis, Davis came to know Big Joe Williams and Charlie Jordan among many of the greats that were around at that time.
In addition to polio, Davis would endure even more damaging medical hardships. As a result of being trampled in a nightclub raided by police in 1957, both his legs were broken and from then on he used a wheelchair. One silver lining from all the difficulties in his life was that they informed his music, infusing his unique take on the blues with their consequences.
Later, in the early '60s Davis returned to Pine Bluffs. His 1994 album, Feel Like Doin' Something Wrong, produced by Robert Palmer and issued on Fat Possum Records is recognized as a blues masterpiece. Other albums include The Best Of CeDell Davis in 1995, When Lightning Struck the Pine in 2002, and Even The Devil Gets The Blues in 2016.
Watch this space for more details as they become available.