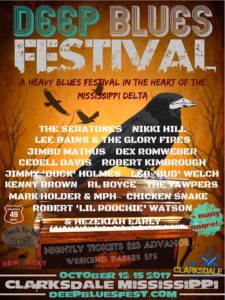 Time is running out to buy weekend passes, and book hotel rooms for next month's 10th annual Deep Blues Festival in Clarksdale, Mississippi. With the event scheduled for October 12th – 15th, organizers say now is the time to lock in this epic weekend of heavy blues, Americana, and rock 'n roll.
"We are rolling forward fast and furious," said co-organizer Robin Colonas of the New Roxy venue. "We have so much amazing stuff planned, plus we keep amping up the weekend with more music and events. It will truly be an unprecedented party at the Crossroads of American music."
The other main stage venue is the world-famous Shack Up Inn. Both are clearly among the most interesting music venues in the Mississippi Delta.
This week, Deep Blues Festival announced the headliners for its Benefactor's Ball, an annual "thank you" to the festival's special supporters. Benefactors will jam out at the New Roxy with Southern cooking and the sons of North Mississippi Hill Country blues legend Junior Kimbrough — David, Kinney, and Robert Kimbrough, Sr. Become a Benefactor.
Whether attendees opt to upgrade to the Benefactor level or not, the Deep Blues Fest's Weekend Pass is the surely the best way to catch all of the nighttime music at the New Roxy and Shack Up Inn stages — though individual nighttime wristbands are also available. Either way, organizers recommend that out-of-town visitors buy passes in advance as opposed to risking a sellout.
The nightly wristband headliners at the festival's main New Roxy and Shack Up Inn venue stages include Nikki Hill, RL Boyce, Seratones, Dex Romweber, Jimmy "Duck" Holmes, Kenny Brown, Robert "Lil Poochie" Watson & Hezekiah Early, Jimbo Mathus, Mark "Porkchop" Holder & MPH, Chicken Snake, Lee Bains III & the Glory Fires, The Yawpers and more.
In addition to the ticketed nighttime shows, there will also be free daytime busking stages.
The Shacksdale Stage across from the Shack Up Inn will featuring a free all-day lineup that includes Robert Kimbrough Sr., Skye Paige, Jam Messengers, Porkchop Willie, Libby Rae Watson, The Scissormen, Johnny Lowebow, Dale Beavers, Chad Nordhoff and more.
Plus, in Clarksdale's historic downtown, free daytime busking stages in front of Cat Head Delta Blues & Folk Art, Rock & Blues Museum, Hambone Art & Music, and Delta Blues Alley Cafe (among other locations) will feature acts like Jesse Cotton Stone, Mark "Porkchop" Holder and Anthony "Big A" Sherrod and many others — Thursday through Sunday.
Clarksdale features live blues music every single night of the week as well as two music museums, so adding Deep Blues Fest to the mix makes the weekend the perfect time to visit.
New for 2017 is the Deep Blues Festival 5K Run, benefiting Clarksdale's C.A.R.E.S. Animal Shelter and Delta Blues Museum. Watch the festival website for more details. The festival's featured hotel, the Shack Up Inn, is totally booked up. Fortunately, Clarksdale has both regular chain hotels and a cool collection of unique overnight accommodations.
In 2007, BBQ master Chris Johnson held the first Deep Blues Festival in a field just outside of the twin cities, Minneapolis-Saint Paul, well north of the Delta. While Johnson is no longer an active organizer, he is still a big fan. Considering Mississippi to be the festival's musical and spiritual home, he hand-delivered the fest to Clarksdale four years ago.