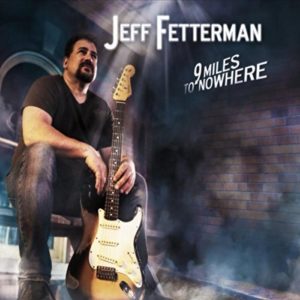 Pennsylvania based, blues rocker Jeff Fetterman, has added another stellar album to his catalog. 9 Miles to Nowhere was released August, 16th on Fetterman's own Green Tea Music label. An impressive follow-up to Bottle Full of Blues, this latest offering renewed our faith about blues in rock n roll.
Kenny Wayne Shepherd, Stevie Ray Vaughan, Mato Nanji, Chris Duarte, and myriad others have left an indelible mark on Fetterman's style. He comes out swinging, no-holds-barred, like a prize fighter looking for that 10th round knock out.
"Somebody Get Me a Doctor," leads off with some Hendrix influenced guitar work. Fetterman's voice, like two truckloads of gravel, comes in as strong as we've ever heard. Make no mistake. Jeff is no newcomer to the game. The man is a seasoned vet, who writes, produces, and plays his own original music. The sound may be familiar, but the stories are fresh, and come from his own life.
The usual suspects are all present. Fetterman (lead guitar, vocals), is once again joined by clock master John McGuire (drums), uber-funky Ralph Reitinger III (bass), and harmony mistress Judy Kessler (vocals, percussion). There is a new addition to the group as well. Eric Brewer has joined Team Fetterman on second guitar, adding some super cool riffs and additional depth.
On "Something Just Ain't Right," the guitar harmonies have a Southern rock feel that took us back to the days of the Outlaws, and early Allman Bros. "Devil Knockin' at My Door" opens with a haunting, loosely performed, jam sound before McGuire starts the clock. After that, the electrified, 12-bar tune takes us on a ride through various Delta blues exponents. Ol' Scratch, freight trains, and a woman's saving grace have been principal topics since the blues began. It's good to know that they're still remembered, and touted in these times.
Fetterman's guitar skills are on prime display on "Brand New Day." Once again, the addition of a second guitar à la Brewer, adds surprising depth. These guys don't just run the scales, they play with soul. "Lover Man" kicks in with some prime, Texas-flavored, double shuffle sure to pack any dance floor within miles of the stage. More Texas tang hit us square in the earholes on "Goodbye John Brown." More importantly, this song is a cautionary tale. NEVER laugh at a man who just received a "Dear John" letter.
Not all of Fetterman's influences were rock and rollers. B.B. King held huge sway over the Pennsylvanian. Nowhere, or 9 miles to it, is that more evident than on "Broken Hearted." The jazzy, slow-burn accompaniment is punctuated by Fetterman's vocals like a rasp across maple. King's voice took decades to reach that resonance. Jeff's is there right now.
The atmosphere picks right back up on "Early Grave." It's another musical warning, provided by a group that is tighter than a hangman's knot. "Bad Feeling" is true rock n roll from the old school. A modern version of something we may have heard coming from the Sun Studios in the 50s, it's sure to be another dance hall favorite.
9 Miles to Nowhere concludes with "These Arms of Mine." No, it's not a cover of the Otis Redding classic. It's a very soulful, bluesy original that took us completely by surprise. With the tempo of a stroll, it hit the mark as our personal favorite.
Fetterman recently won a place in Memphis, to compete in the International Blues Challenge in 2018. If you haven't had the opportunity to see the band live, that would be a great starting point. In the meantime, pick up a copy of 9 Miles to Nowhere and play it loud. Consider it pre-gaming.
Artist: Jeff Fetterman
Title: 9 Miles to Nowhere
Label: Green Tea Music
Release Date: August 16th, 2017
Running Time: 44:53