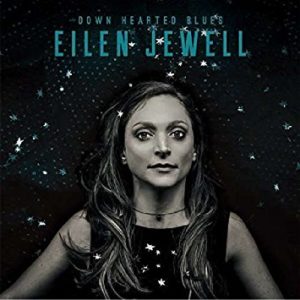 Eilen Jewell credits the blues with first igniting her musical curiosity. On her upcoming Down Hearted Blues album, set for release via Signature Sounds on September 22nd, she pays homage to the genre that inspired her.
Jewell, along with her co-producer/drummer/husband Jason Beek, unearthed 12 vintage gems written or made famous by an array of artists both renowned and obscure. Then, like expert stonecutters, they chiseled them into exciting new shapes and forms, honoring history while breathing new life into each discovery.
For this World Premiere track release, she's chosen a Willie Dixon tune popularized by Otis Rush. Jewell's torchy rendition emphasizes its spooky message. Here's what Eilen told us about "You Know My Love."
I first heard "You Know My Love" about three years ago, on a community radio show out of MIT called Backwoods. Otis Rush had this stellar, haunting delivery that forced me to stop what I was doing and write down the title. At the time, I was keeping a running list of blues songs that I loved because I hoped to someday incorporate more blues material into my live set. I lost that list for a while, but a couple of years later I came across it in a pile of papers. Fortunately, it was right around the time that my band and I had decided to try recording some blues tunes. Whether the recording would take the form of an EP or a full-length album we hadn't decided. Somehow, the song had slipped my mind. As soon as I read the title on my little piece of scrap paper I started to search for the song. Once I heard it again I knew I had to record it with this project. And then when I listened back to the recording many months later I knew our blues project had to be a full-length record. I love the lyrics and the strength of the message in this song–that idea that an old love can overpower you and dog you forever.
The haunting, sexy sax we hear on the track is provided by none other than Curtis Stigers, a fellow Boisean who had several soul hits before segueing into jazz. For the songs on which he is included, Stigers created an entire horn section with overdubs – chartless, on songs he'd never heard. The soul piercing guitar is courtesy of Jewell's guitarist, Boston six-string slinger, Jerry Miller.
Without further ado, we're proud to bring you Eilen Jewell, "You Know My Love."