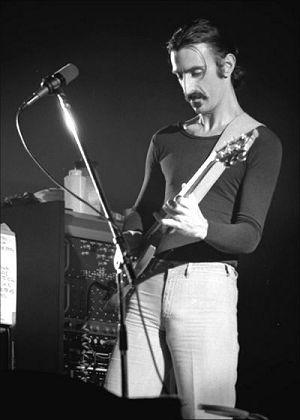 Frank Zappa will be on tour once again. Yes, you read that correctly. Composer, activist, and guitarist extraordinaire Frank Zappa, who lost his fight with prostate cancer in 1993 will be on tour again playing with his former bandmates, as a hologram. Initial shows will be in late 2017, with additional shows to be announced in 2018.
Eyellusion, the same company that gave us the touring Ronnie James Dio hologram has partnered with the Zappa Family Trust to develop the hologram shows. Ahmet Zappa, who is co-trustee with his sister Diva has stated that members of the famous Mothers of Invention are on board including Adrian Belew, Steve Vai, Vinnie Colaiuta, and more.
Also, on a yet to be announced date, audiences will see a fully realized presentation of Zappa's Joe's Garage, a three act opera that tells the story of a young musician overtaken by all that stardom has to offer – with a hologram Zappa playing the role of the Central Scrutinizer.
Ahmet Zappa told Rolling Stone, "I'm thrilled that Frank Zappa will finally be going back out on tour playing his most well-known music as well as some rare and unheard material. We can't wait to bring his creative work back to the stage with the musicians he loved to play with … who are committed to being part of this epic endeavor. When I spoke with them, they were excited at the prospect of performing alongside Frank once again and can't wait to give fans an unforgettable experience."
Unfortunately, while Ahmet would love to have other Zappa family members also performing in these concerts/shows, that is not very likely. Dweezil Zappa and Moon Zappa are not trustees of the Zappa Estate, while Ahmet and Diva are. There has been strife over how each envisions honoring their late father, Frank, and other matters as well.
Dweezil, who has been playing Zappa Plays Zappa tours, recently changed the name of the tour to 50 Years of Frank: Dweezil Zappa Plays Whatever the F@%k He Wants – The Cease and Desist Tour. He has said that he was threatened with a fine of "$150,000 each time he played a song without proper permission" by his siblings. Ahmet has told Rolling Stone that Dweezil's claims that the estate was attempting to stop him were "1 million percent false."
Watch this space for more information as it becomes available.