Continuing the celebration of the iconic Americana band's 50 years of making music together, the Nitty Gritty Dirt Band's extraordinary career is encapsulated in the new retrospective two-disc set, Anthology, due September 29th via Capitol Nashville/UMe. Beginning with "Buy For Me The Rain," the first track from their 1967 self-titled Capitol records debut, and culminating with "The Resurrection" from their most recent studio release, 2009's Speed of Life, the all-encompassing collection is an extensive 39-track career overview. It also includes illuminating liner notes from renowned journalist and author Holly Gleason.
Founding member, and project supervisor Jeff Hanna says, "We really wanted this collection to historically reflect our band's timeline, but in addition to that, felt like it was important to include deeper cuts ("Fish Song," "Cosmic Cowboy") and instrumentals ("Randy Lynn Rag," "Midnight at Woody Creek"), and fan favorites ("Ripplin' Waters," "Bayou Jubilee")."
Long before Americana music had a name, the Nitty Gritty Dirt Band, helped lead the charge, mixing elements of country, bluegrass, folk, mountain music, and rock & roll into a sound that celebrated the full range of American music. Formed in Long Beach, California in 1966, the guys were traditionalists and trendsetters, performing songs that nodded to the past while still pushing toward the future.
From their ubiquitous 1970's Top 10 hit of Jerry Jeff Walker's "Mr. Bojangles," to "An American Dream" – featuring Troubadour pal Linda Ronstadt – and "Make a Little Magic," with Nicolette Larson, to their #1 country songs, 1984's "Long Hard Road (Sharecropper's Dream)," penned by Rodney Crowell and featuring Ricky Skaggs on fiddle and a young Jerry Douglas on dobro, to 1987's platinum-certified "Fishin' In The Dark" and many many more, Anthology collects all their best known songs in chronological order of release showcasing the band's thrilling evolution and numerous highlights.
The Nitty Gritty Dirt Band are perhaps best known for their landmark album, Will The Circle Be Unbroken, and this groundbreaking achievement and its sequels are ably represented throughout Anthology with a dozen cuts from the three volumes. Released in 1972, Volume 1 saw the band pairing with bluegrass and country legends of the '40s, '50s and '60s such as Roy Acuff, "Mother" Maybelle Carter, Doc Watson, Earl Scruggs, Merle Travis, and Pete "Oswald" Kirby, for an inspired and influential 38-song double album that healed generational and cultural rifts by bringing the new and old guard together. Will The Circle Be Unbroken has been inducted into the U.S. Library of Congress as well as the GRAMMY® Hall of Fame.
Twelve years after the original, the Nitty Gritty Dirt Band revisited their unique experiment for Volume 2. With fellow folk-rock vets Chris Hillman and Roger McGuinn, they took on Bob Dylan's "You Ain't Goin' Nowhere," a song their guests had popularized in The Byrds. Produced by Randy Scruggs, some of the many collaborators this time included The Band's Levon Helm, John Prine, John Denver, Johnny Cash, Rosanne Cash and John Hiatt. The album won the Country Music Association's "Album of the Year," and three GRAMMYs®: Best Country Performance by a Duo or Group, Best Country Instrumental, and Best Bluegrass Recording for "The Valley Road" with Bruce Hornsby. Again, merging moments, movements and cultures, the Nitty Gritty Dirt Band captured a state of roots music long before it was called Americana.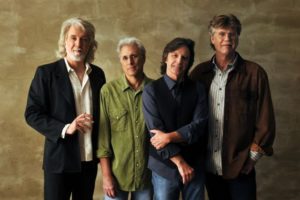 The third volume, released in 2002, brought Dwight Yoakam, Willie Nelson, Vince Gill, Emmylou Harris, Del McCoury and Taj Mahal into the fold and took home another GRAMMY®. To hear Johnny Cash's weathered dedication of "Tears in the Holsten River" to his mother-in-law Maybelle Carter and her sister Sara is to have the forebears made real, while the next generation appeared as sons Jaime Hanna and Jonathan McEuen brought the circle forward with "The Lowlands." Alison Krauss joined the band for a sparkling take on Bob McDill's "Catfish John," a Johnny Russell hit that became a Jerry Garcia favorite.
For five decades, the Nitty Gritty Dirt Band has remained one of the most iconic names in American music. With one foot planted in the traditions of country-folk and the other pointing toward something new and unexpected, the group continues to tour and release music, influencing multiple generations of audiences and artists along the way. Anthology is both a perfect primer for those who want to explore the band's remarkable career, and a lovingly compiled collection for the band's fans that span generations and genres, keeping the circle ever going.