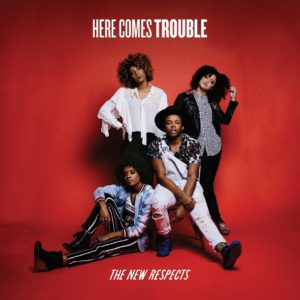 The joint was absolutely rockin'. The Nashville family foursome, The New Respects, have just left the stage in Carl Butler's Gospel Lounge. For the uninitiated, that's the intimate concert space that occupies the oldest room of Knuckleheads Saloon in Kansas City.
The show began promptly at 10 PM, with 3 siblings, along with their cousin, taking the stage and firing off what they call "Pop, Soul & Rock N Roll." There were perhaps a half-dozen attendees at the start (two other bands, and a jam session were underway at the multi-stage club), but that did not deter The New Respects in any way. They lit off like lightning. It was no surprise that by the end of their hour-and-a-half set, the Gospel Lounge was standing room only. Like a team of pied pipers, their magical tones lured listeners from the other shows, and off the street.
This group has the energy of House of Pain on espresso. Bassist, Alexis (Lexii) Fitzgerald, jumped, hopped, and danced throughout the entire set, all the while slapping a very funky bottom. Her twin sister, Alexandria (Zandy) on guitar, has all the swagger of Lenny Kravitz. Their elder brother, Darius kept a rock-solid clock on a minimal drum kit, bringing out all the power of drummers with twice his experience and thrice his gear. Centered on stage was their lead vocalist cousin, Jasmine Mullen. Mullen's mother, Nicole C. Mullen, is a popular Christian singer, and although Jasmine never was interested in following her mother's path, DNA doesn't lie. Her barefoot dancing, testifying vocals, authoritative stage presence, and unremitting smile welcomed everyone who came in the door to The New Respects own private party.
Their music is original, their style unique, their performances dynamic, and their harmonies tighter than the rubber band around the Sunday Times. The New Respects are the real deal.
Let's rewind to four hours earlier. We had the rare opportunity to sit down with all four band members and chat between their sound check and dinner. Their group energy was tireless, and their eagerness to share their story, refreshing.
JD for American Blues Scene: Jasmine, I know your mom is a Gospel singer. How much of an influence was she on your vocal style?
Jasmine:
Jasmine

I don't really know. Honestly, I never really wanted to be a singer. But I grew up listening to her obviously, and when I first started singing, she was super supportive. I've never tried to emulate anything she was doing, but if I sound like her I'm happy. She's a beautiful singer. I don't think there was any intentional copying, other than I grew up listening to her sing every day.
JD: Did you guys come up playing in the church?
Lexii:
Yes and no. Our dad was a pastor, but we didn't really start playing music until our mid-teens. The church we grew up in was very diverse, so we don't have deep Gospel sounding roots. But, we were embedded with like CCM, but also there were Native American people, and we had Spanish Sundays. The tone in which we sing isn't necessarily traditional Gospel, but we sang in the church in that way.
JD: Do those early influences find their way into your music now?
Lexii:
Lexii

It is definitely influencing how we're writing and what we're saying. We believe everything we were raised on. We're all Christians, but our music isn't necessarily Christian music. We believe everything we do should be influenced by God and our relationship with Him, but sonically, we have a responsibility to make it excellent, and to make it genuine to what we do. Zandy and I are 22, Darius and Jasmine are 23, we're black, and we were raised in Nashville, Tennessee. So, what do those people have to say? That's how we make our music.
JD: Being from Nashville, did you absorb any of that city's country vibe?
Zandy:
I think more than we thought actually. When we started out, Mumford & Sons was really big. We kind of adapted to that folksy, Americana sound. Early on we decided we wanted to be the black Mumford & Sons. (Laughter). What's great about country music is they're great at telling stories. I hope, if anything, we pull away the story-telling from Nashville writers. It's very vivid, and very relatable. We try to do that even though we play what we call "Pop, Soul, and Rock N Roll." We hope the stories we tell are very clear and also very relatable.

Zandy

We thought it was normal growing up in Nashville, being surrounded by writers and musicians. You hear stories about like ZZ Ward, who grew up in the middle of nowhere. She had to start making music, then move to a music town. We got lucky to be born there, and just learn from the jump. We were a little spoiled by it too. It's normal to go anywhere, any day of the week, and hear music somewhere. I think that pushed us to be professional. We make our own standard of professionalism the best of the best. We learned by playing with other bands. For example, right from the start we had the clothes we were wearing and clothes for the show. And all the stuff we learned from Jasmine's mom. Now's our time to warm up. Now's the time to cut everyone else out and get ready. We unknowingly had all that training, that not everyone has the privilege of getting. Our mindset was always that of being musicians, even before we realized it.
JD: How long have you been together and touring?
Zandy:
Technically, we've been together for six years, but we've only been touring for the last year and a half to two years. Our first tour we did in June of last year with a band called Switchfoot along with Lecrae. They did a co-headlining tour and asked us to come out. We recorded our EP and took the rest of the year off. We toured with Robert Randolph & The Family Band, then did a run on our own. Then back home for a bit, and we've been on a two week run of our own stuff, and tomorrow we start a tour with Need To Breathe. We don't have the background of just packing a van and playing random gigs. Thankfully, we've always been in the position where we've had an audience. Whether it's five people or fifty people, there's always someone willing to listen to our music.
JD: But you still pack up in a van and travel?
Lexii:
We literally just packed in a van and drove from Nashville to Seattle. That was 35 hours. I was tallying it up the other day, and just in the first two weeks of this month, we've driven almost 100 hours. In the moment it didn't feel that way, until yesterday when we were driving from LA to here. Then I was like (singing) get me out of the van. (Laughter) But we have so much fun together.

Genuinely, these are my best friends.That's why it doesn't feel like work most of the time. We all still have part-time jobs back in Nashville. Even though we might have to spend 100 hours in the van, this is the fun part.
JD: Darius, what are your feelings about being the only male in the group? Does it get overwhelming at times?
Darius:
Darius

I grew up with four sisters, these two, and then I have two older sisters as well. I don't have any brothers, so being surrounded by women is nothing new to me. I'm very used to it. We also grew up with Jasmine essentially, so if there ever is a tense moment, we have a relationship that's strong enough that I can say, 'Hey, y'all need to chill' or whatever. I think the most overwhelming thing for me is like weird guys on the road. Sometimes people drink a little too much, and maybe start saying weird stuff. That's the only thing that's overwhelming.
But these are great girls. I think I'm very fortunate to have really strong women who are down to do this band thing. They take it all in stride.
JD: You've released one EP. Is there a full album in the works?
Jasmine:
Those are good words, 'in the works.'
Lexii:
This process has been really crazy. We've been building our career at the same time we've been building the band. We haven't been playing for that long. We're all in our early twenties, so there's so much discovery going on and so much learning to do. We're learning a lot as far as just being human beings, what music is and how to write it. That being said, the goal is to have something out in the spring of next year. But that is all determined by how long this process takes. We were just in LA writing with some really good people, so we're working really hard but we're not willing to put something out that's not ready. We're signed with Capitol, and they're amazing. Again, we're not going to put anything out that's not ready, because the people deserve better than that.
JD: Is there a primary songwriter, or is it a group effort?
Darius:
It's really a group effort. But Zandy and Jas, it's like part of their DNA. Although Lexii and I can write, and add stuff…
Lexii:
We're the icing on the cake. (Laughter)
Darius:
But a lot of times, Zandy and Jas will bring in a song, and then we add our elements. They breathe songs.
Lexii:
And we inhale them. (Laughter)
JD: So the album you're working on is all original music?
Jasmine:
Oh yeah. We didn't even know there was such a thing a cover bands for a long time. In Nashville, you did have covers, but not cover bands. We all learned to play our instruments together, that being said, we don't cover well. We're figuring it out, but it's difficult to play someone else's songs. Especially someone we really love, like the Beatles.
Darius:
I think, again, it goes back to Nashville. People say the streets are littered with songs. People are writing all the time, so we were raised like that's what you do. Write your own songs, play your own songs. People would ask us after a show, 'these are all originals?' Well, yeah.
Zandy:
Are you telling me I don't have to write songs? (Laughter)
Jasmine:
I feel that also, there's no such thing as a 100% original. We're always digesting the music that came before us. We still have traces of the people we are listening to. Not that we're copying them. We grew up listening to Gospel, then we started listening to John Mayer, and Alabama Shakes, Aretha, and the Beatles. You hear their words and want to write something that impacts people like that. We carry those things around with us. You can call it original, but I just want to write something that says things the way this person said it.
Zandy:
When people hear the influences, it makes us really happy. Someone may say, that sounds like Alabama Shakes, and we're all like, 'YES!'