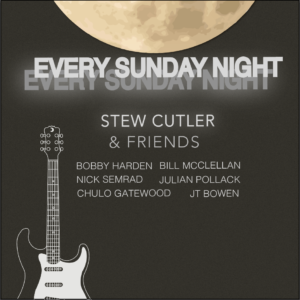 In a world where careers are manufactured out of thin air and maintained amid a blizzard of hollow puffed-up PR madness, it is always comforting to discover that the real deal still exists out in the wild. Native New Yorker Stew Cutler is that honest to goodness real deal, and very much so. There's no smoke and mirrors here friends, there's no need; Cutler's music speaks for him in an assured, knowing, expressive voice that leaves no doubts as to its authenticity.
Every Sunday Night is Cutler's sixth album and he continues to perform music that belies labeling with specifics such as jazz, rock, blues, soul, or even funk; he just plays what he feels. The album's nine tracks run 45 minutes giving listeners ample time to indulge their senses. "I wanted to do a live recording in the place we play every Sunday — Arthur's Tavern in New York's Greenwich Village," he explains. "However, since it became clear that it was going to be impossible to do it that way, I brought the band out to Queens and we basically played live. The overdubs and edits were kept to a minimum." He adds, "We are kind of an 'artsy bar band,' and on this recording there is a 'bar band' aspect that I hope we take to another level."
The album is by Stew Cutler & Friends and that's quite appropriate. The music here sounds like old friends coming together and sharing music with one another. The sound quality is excellent, as is the mix, allowing the performances to stand tall. Having shared the stage and collaborated with a mind-blowing array of talented artists including Meatloaf, David Sanborn, Percy Sledge, Wilson Pickett, Bill Frisell, the Harlem Gospel Singers, and more, Cutler seamlessly weaves all that experience into every note he plays for us.
Every Sunday Night is an animated and inspired experience, with performances that are provocative yet nimble, and always engaging. We particularly enjoyed the old school jazz inspired lines of "The Grind," and the peppy Texas flavor of "Before I Go," which tips the hat to Tinsley Ellis.
Without question, the standout performance here is the Gregg Allman classic "Not My Cross To Bear." Cutler's guitar lines are stunning, and the band rallies around him with rich sonic goodness. Bobby Harden's vocal here is mesmerizing. The Issac Hayes/Davis Porter penned classic "When Something Is Wrong With My Baby" is positively enthralling and JT Bowen's vocal is riveting.
Every Sunday Night is a great addition to any informed listener's collection. Don't miss out; pick this one soon y'all.
Every Sunday Night by Stew Cutler & Friends
Tracks:   9
Label:    COGNA
Run Time:   45:00