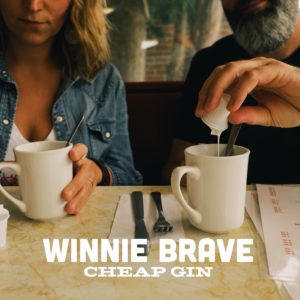 There is a free spirit in everyone. A wanderlust that urges us, at some point or another, to pitch it all and reinvent ourselves. In 2012, husband and wife musicians, Brad and Amy McIsaac did just that. The couple sold their home, quit their jobs, loaded the essentials (dogs, guitars, and favorite coffee mugs) and hit the road. After three months, and over 7,000 kilometers, they returned to Ontario. Making a 1976 Winnebago their home, they recorded their debut album, the eponymous, Winnie Brave.
Fast forward four years, and some 20,000 miles, the trail-blazing, Americana/Soul duo is poised to release their sophomore offering. Cheap Gin has a scheduled street date of October 3rd, once again tendering their brand of travel-ready, homemade music.
In advance of the newest launch, comes the introductory single, "Moonshine." A love-gone-wrong song of the first order, the video gives us an entirely different vision; a day in the life of Winnie Brave.
"The video was filmed by our good friend, Matthew Waring,"  they say. "We really wanted to show what our daily life is like and I think he nailed it. This is us and this is what we do (dogs, oil changes and tank dumping at it's finest). The day we were filming there were multiple tornado warnings being issued over the CBC for our area. It certainly made things interesting."
Watch for the pair on their Cheap Gin tour, in both Canada and the US. The internationally touring duo play over 150 shows per year. You'll know you're in the right spot when the Winnie Brave rolls in.