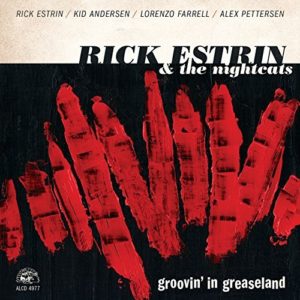 When looking for the appropriate word to describe Rick Estrin & the Nightcats, we couldn't come up with one better than fearless. The sheer bravado of the band, combined with genius songwriting and gifted musicianship, make them one of the top acts of our time. Moreover, these guys are fun! Their latest release, Groovin' in Greaseland, is testament to all those descriptors, and more.
Released on August 18th, via Alligator Records, Estrin and crew give us 13 original tracks. Eleven were written by Estrin, one by face melting guitarist/producer Chris "Kid" Andersen, and one by keyboard mage, Lorenzo Farrell. High-octane drummer, Alex Pettersen, although not contributing a song to the project, provides the clock for this one-of-kind band and release.
Groovin' in Greaseland kicks off with "The Blues Ain't Going Nowhere." Estrin's train whistle harp kicks off the story of the alive-and-well genre we all know and love. "As long as this world ain't fair, the blues ain't goin' nowhere." Estrin would know. He's been performing for nearly 50 years. Always dressed to the nines like a modern day wiseguy, with a pencil-thin mustache, and harmonica in his holster, he is the blues.
"Lookin' For a Woman," comes out funky, and we mean funky. One of those shake-what-your-mama-gave-you tunes that defies you to dance. "Dissed Again," is simultaneously funny and heartbreaking. Set to a 50s rocking beat, our protagonist can't win for losing. Much like the great Rodney Dangerfield, he gets no respect. "I'm drivin' cross the country in a beat up, funky van. Tryin' to make a livin'. Got to pay the band. Get there just in time to hear the boss man say, you got to open for a 10 year old sounds just like Stevie Ray." It would be hilarious if it wasn't so painful.
Therein lies the true genius of Estrin's songwriting. He calls 'em like he sees 'em, warts and all. His tales of the road, and about life in general, are the gritty substance that binds the blues to our collective souls.
Musically, the Nightcats are in top form. This is their fourth album on Alligator, under the current band moniker, and their sound is tighter than a tourniquet. Their combination of classic Chicago and West Coast bluster makes them a uniquely musical force of nature.
"Tender Hearted," slows things down with a swampy, voodoo feel. The addition of Andersen's surfing guitar is perfect. Speaking of surfing, "MWAH," comes at us like Dick Dale on steroids. An outstanding instrumental that is sure to join the likes of "Juke," "Rumble," and "Wipe Out," blowing the listeners a kiss at the end is a spot-on closer. "I Ain't All That," is a true bluesy number with more street-wise lyrics, and "Hands of Time," brings the double-shuffle to a whole new high point.
Rick Estrin & the Nightcats pack more punch with four players, than many full-on, orchestra sized outfits. They can also change the mood in half a heartbeat. Just when you think it's all brandy and giggles, "Another Lonesome Day,"  dragged us through the gutters of some deep blues. But then, out of nowhere, tunes like "Hot in Here," and "Big Money," put us right back in a party mood. "Cool Slaw" is another great instrumental with a Booker T vibe.
It all ends, way too soon, with "So Long (For Jay P)." Even though Estrin possesses a singularly exceptional voice, the smattering of instrumentals is proof that, even sans vox, this band can let their instruments do the talking. Set to the beat of a Stroll, "So Long," wished us a fond adieu.
Groovin' in Greaseland makes us think the band wrote a little something from every single stop on their never-ending tour. Flavors from all over the country, and from every era, are represented in an original, distinctive, and skillful way. If you've been saving your pennies for just the right album to buy, crack open that piggy bank and get yourself to the nearest record shop.
Artist: Rick Estrin & the Nightcats
Title: Groovin' in Greaseland
Label: Alligator Records
Release date: August 18th, 2017
Running time: 54:31