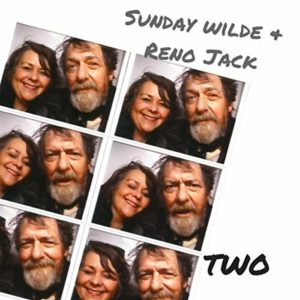 Have we mentioned how much we love going to the mailbox and pulling out a sweet surprise? If not, we should have. When that surprise is a CD of blues from North of the border, it's just that much better. Sunday Wilde & Reno Jack have released eight albums over the last decade. Their newest offering, Two, takes them down a different road, one that we truly enjoyed.
Of the ten tracks, most are cover songs. But the mixture of genres and eras makes for a delightful experience. The sound is a return to the mid 20th Century, when electric and acoustic instruments were being introduced to one another. Combining piano, doghouse bass, harmonica, and drums with no-frills electric guitars played through vintage amps, Two covers the bases of blues, roots, soul, country, and gospel.
All the musicians involved; Wilde (piano, vocals), Jack (bass, vocals), Cleave Anderson (drums), Steve Koch (guitar), and John MacLeod (guitar, harmonica) have known one another, and played together for ten years or more. It's no surprise then to learn the entire project was recorded in just eight hours, with mostly first takes. It  was co-produced by Reno Jack and John Borra, with Borra also doing the recording and mixing.
Mastered by GRAMMY® winner Peter J. Moore (Bob Dylan The Basement Tapes), Two is a raw, deliberately simple recording. No overdubs or fancy studio wizardry. Just real instruments played by real musicians. As soon as we hit play, "Howling For My Darling" graced our ears. The jolt of hearing a Howlin' Wolf tune done in a female voice vanished in just a few bars. Wilde torched it up nicely with enough of a growl in her voice to make it legit. Singing it from a female point of view, she also added a verse so there is no mistake. Ah, ah, ah ooh-wee!
Jack adds his vocals for the first time on "Love Contest." It's the first of three Ruth Brown covers on the record. Being true fans themselves, Wilde and Jack lean heavily on Brown's catalog during live shows, so it's no shock that there would be lots of her music included. The interweaving of Sunday's seductive vocals and Reno's gruff baritone is the auditory equivalent of seeing two dragonflies at play. The same vocal braiding is evident on the other two Brown selections, "5-10-15 Hours," and "I Wanna Do More." The unadorned guitar and brush-on-snare drumming gave us the feeling of hearing them in a small, intimate venue. The perfect setting for this duo.
"Van Horne," is a classic train song. MacLeod's harp makes the locomotive talk, while Wilde's vocals give us even more snarl. Clocking in at just under two minutes, it's the shortest selection on the album, but one that made us want to play it over and over. "Moonlight Rising" follows, with Jack taking the lead vocals. His voice, particularly on this track, conjures images of another famous Canadian vocalist, Leonard Cohen. There are times when the ghost of Cohen seems to possess him. He's not mimicking the late, great artist. The voice is certainly Reno Jack. However the influence, nay, bewitchment, is haunting.
Wilde did write two songs for the album. (Are you seeing a pattern here?) "Back Lane Man" is a simmering blues number, heavy on harmonica, with Wilde's vocals taking on a Janis Joplin feel. Not the primal screaming Janis, but the "Me and Bobby McGee" Janis. You know the one. That Southeast Texas, warbling alto that won the hearts of millions. Jack comes in with subtle, lyrical echoes in a nice call and response style. This is true blues. The kind you hear wafting out of remote Delta juke joints on any given night. Hands down our favorite song on Two.
Wilde's other composition, "No Matter How Far," shows how simple music can be, and still reach the heart. An undecorated love song with just piano, drums, and an occasional harmonica fill, Sunday's voice transports this one. It could have easily been recorded a cappella and carried the same weight, but the basic music behind it sets it off even more.
A soulful cover of Sam Cooke's "Rome Wasn't Built in a Day," is done at a slower pace, sans horns, but with a couple clever tempo changes bringing it up to speed with the original. Though we're not sure whether or not it was intentional, the final track on Two hits home perfectly. "Leaving On Your Mind," first made famous by Joyce Smith, was the last single released by Patsy Cline, shortly before her tragic death. Written by Wayne Walker and Webb Pierce, it is a country classic. Jack and Wilde perform it as a duet, with only her piano and his bass accompanying their vocals. Their voices don't match perfectly, and we believe that's the point. Two people, singing to one another as casually as across a dinner table, their feelings laid bare.
With a release date of September 15th, on Hwy 11 Records, Two should be on everyone's to-get list. It's not pristine, but it is unspoiled, and once we heard it, we couldn't help but listen again and again.
Artist: Sunday Wilde & Reno Jack
Title: Two
Label: Hwy 11 Records
Release Date: September 15th, 2017
Running Time: 32:33