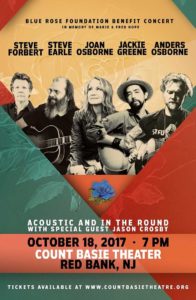 Some of the most respected names in American roots music will gather on October 18th, in Red Bank, New Jersey. The basis for this concert is the Blue Rose Foundation, with all proceeds going to benefit the Monmouth Day Care Center.
In a one-night-only show, Steve Earle, Steve Forbert, Jackie Green, Anders Osborne, Joan Osborne, and special guest Jason Crosby come together on the Count Basie Theatre stage. The all acoustic singer/songwriter showcase will feature both solo and group performances in the round. Through swapping stories and sharing songs, this group of roots royalty promises an intimate and entertaining show, as they gather on stage for the first time ever.
This will be the third such benefit for the foundation in which Greene has participated. It also comes hot on the heels of his recent Blue Rose Music release, The Modern Lives – Vol. 1. Following this concert, he and Anders Osborne embark on their four-week, "Sitting Around, Singing Some Songs – Together 2017" tour.
Earle is currently touring his So You Wanna Be An Outlaw album, that sees him in Australia for the month of November. Forbert is slated to release his newest offering, Flying at Night, with longtime friend, Anthony Crawford this month. It is sure to be make a nice companion piece to his autobiography, "Big City Cat: My Life in Folk-Rock." Joan Osborne is currently on tour with her latest release, Songs of Bob Dylan. Legendary sideman, Crosby, released his debut album, Crpytologic, via Blue Rose Music on September 29th.
The Blue Rose Foundation believes that equal access to resources starts children on an early pathway to success, and strengthens families and communities. By awarding preschool scholarships to children from economically disadvantaged families, they foster a life-long love of learning and provide the children with the tools to reach their full potential.
Tickets for the benefit concert start at $20, with limited amount of VIP Meet & Greet packages available.