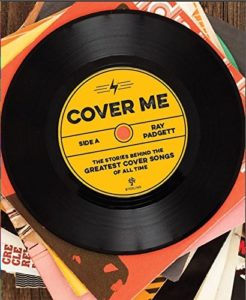 Cover songs. Some people hate the very thought of them. In our experience, most of those people are the ones who have heard local bands play "Mustang Sally," or "Sweet Home Alabama," one too many times. The fact is, without cover songs, some of the greatest songs ever written, may well have since been forgotten. The new book, Cover Me: The Stories Behind the Greatest Cover Songs of All Time, by Ray Padgett, takes an in-depth look at some unforgettable music.
Padgett is an expert in this particular field. Ten years ago, he founded the blog, Cover Me, which has become the largest, most popular blog on the subject. If you think he just sits around all day listening to and researching covers, you'd be wrong. Padgett is also a senior music publicist for Shore Fire Media, representing clients that include Ben Harper, and Lana Del Rey. Music is Padgett's life, and writing about it, his life's blood.
The book, Cover Me, is 240 pages of in-depth research on some of the greatest, and some of the most obscure cover songs ever to be recorded. Made up of 19 individual chapters, each detailing one particular song, the book is chock full of detailed analysis and little known facts. For those that want more, never fear. Cover Me is also crammed with rare photos, and obscure trivia, that had us turning the pages non-stop.
Some of the songs are obvious choices. Aretha Franklin's 1967 smash hit, "Respect," written and originally recorded by Otis Redding; Elvis Presley's cover of Big Mama Thornton's "Hound Dog," and Whitney Houston's take on Dolly Parton's "I Will Always Love You," are prime examples. Some are less obvious. Originally recorded by Todd Duncan for a 1955 prison film soundtrack, "Unchained Melody," became the signature song of the Righteous Brothers. A few are more parody than cover. Examples including Weird Al Yankovic's "Polkas On 45," and The Gourds' cover of Snoop Dogg's "Gin and Juice," prove that point.
No matter the song, Padgett goes into great detail regarding each entry, but does so in a manner that's not dry or boring. It's the stories behind the covers, and sometimes the original artists' reactions that kept us reading. Like any true coffee table book, you can take your time with it. It isn't, after all, a thriller. It is, however, written in a new and approachable way. We had the feeling at times that we were there, at that particular point in music history, feeling what was going on. Padgett's story-telling is that good.
For the musical historians among us, Cover Me also delves into the very origins of cover songs. People in the 1930s and 1940s we learned, often searched for songs by title, and not artist. The first immediately playable recording, made by Thomas Edison in 1877, was actually his cover of "Mary Had a Little Lamb."
All in all, Cover Me: The Stories Behind the Greatest Cover Songs of All Time is an excellent read. Even the most haughty music purists will find it to their taste. You'll want to buy two copies, as surely your music loving holiday guests will ask to borrow yours as soon as they see it.
Author: Ray Padgett
Title: Cover Me: The Stories Behind the Greatest Cover Songs of All Time
Publisher: Sterling
Release Date: October 3rd, 2017
Editions: Hardcover