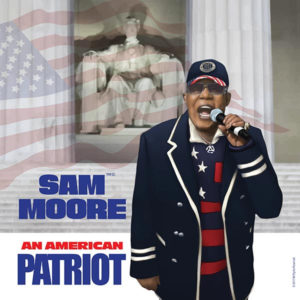 Rock & Roll Hall of Fame member, the legendary GRAMMY-winning 'Soul Man,' Sam Moore  releases his new album titled An American Patriot today. The album will pay tribute to those who have served our country. On An American Patriot, Moore delivers inspiring renditions of iconic classics including Lee Greenwood's "God Bless the U.S.A."
Most recently, Moore performed during the "'Make America Great Again!' Welcome Celebration" on January 19th, appeared during the Opening Ceremony of the DoD Warrior Games in Chicago, and at A Capitol Fourth with The Blues Brothers.
Moore catapulted to international fame as the lead voice of the 1960s duo Sam & Dave, a musical collaboration with long-time partner, and fellow Georgia native, Dave Prater. As Sam & Dave, the duo recorded and performed together for 20 years, producing a string of hit albums. But it was a tune written, arranged, and produced by Isaac Hayes that cemented Moore's place in music history. In 1967, 50 years ago this year, Hayes wrote "Soul Man," which Sam & Dave would record later that year. The song became responsible for a resurgence in Moore's popularity, when Dan Aykroyd and John Belushi assumed the characters of Elwood and Jake Blues, hopped into the Bluesmobile, and took up a career as The Blues Brothers. The song the brothers chose as their signature: "Soul Man."
After a storied career with Prater, Moore has spent the past 35 years enjoying a long solo career. He has recorded with some of the biggest names in numerous genres of music, including Conway Twitty, with whom he recorded the hit song "Rainy Night in Georgia." In 1992, Moore was inducted, along with the deceased Prater, into the Rock & Roll Hall of Fame, arguably music's highest honor, capping a career that included a Grammy, honors from the Vocal Music Hall of Fame, the Grammy Hall of Fame, and the Rhythm and Blues Foundation. Sam was the recipient of the first ever MOBO Living Legends Honor. Additionally, he received the NARAS Hero Award in 2003 and an AFTRA AMEE Lifetime Achievement Award in 2010.
Hitting the streets today via Bullseye Music/Select-O-Hits, An American Patriot consists of time honored patriotic songs, modern flag-wavers, and rock, soul, and gospel tunes. All are sure to ignite a love for America in these troubled times. Moore said, "I want to help bring the country that I love, the country I have been so blessed to have been born in almost 82 years ago back together again."
An American Patriot Track List:
1. America the Beautiful
2. The Battle Hymn of the Republic
3. Show For You (2017 Warrior Games Anthem Long Version)
4. God Bless the U.S.A.
5. The Star Spangled Banner
6. Imagine
7. Peace Please
8. God Bless America
9. Land of the Free
10. What's Going On
11. Lift Every Voice