If you think the Red Hot Chili Peppers are slowing down, think again. Their high energy, powerful performance had the Phoenix crowd at the Gila River Arena on their feet and dancing all night long. The thing that caught our attention from the beginning was the lighting; individual lights that reached from the stage to over half of the arena. The lights moved mystically, like waves in the ocean but could be dropped individually, as they were to light up a Flea solo. I strode around the arena to get different vantage points throughout the evening.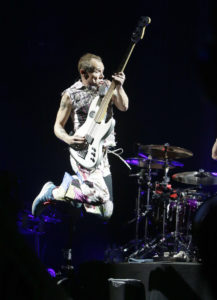 The show started by hi-lighting Chad Smith and Flea with a short intro jam that teased the crowd until Anthony Kiedis joined the mix for "Around the World." "Hey-Oh" followed and this being the last show on tour, they were not going to take it easy. Jack Irons, drummer, and founding member joined the boys for "Dosed" and a Jimi Hendrix cover of "Fire." Irons also opened up with 20 minutes of drumming before Trombone Shorty.  The show continued with hits like "Californication" and "Tell Me Baby," followed by "Higher Ground" (a Stevie Wonder cover) and closed with "By the Way."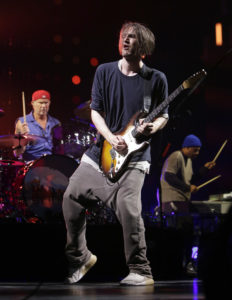 Josh Klinghoffer tore it up to start the encore on "Waterloo Sunset," a Kinks cover, and "Goodbye Angels" and "Give It Away" closed out a rocking performance. This band never gets old, and they never get boring. By the end of the show, everyone was drained; it's almost too overwhelming to watch. Fans could be caught up watching Flea or Josh, or listening and watching Anthony; they are all over the stage. If Chad could get up, I believe he'd be bouncing like the others. Throw in their intense light show, and this could be one of the best Arena shows out on tour.