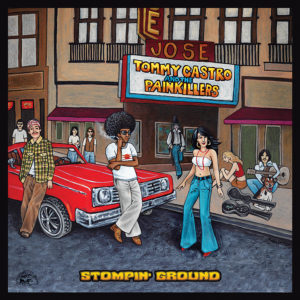 On September 29th, Tommy Castro & The Painkillers released their 5th album on the Alligator Records label, Stompin' Ground. The very next day, they began an extensive tour to celebrate the new record.
Just before leaving on tour, we caught up with Castro, at his home. We had a long talk about his hometown, the new album, modern music technology, and much more.
JD for American Blues Scene: So the new album…unbelievable.
Tommy Castro:
Oh man, I'm glad to hear that. I've only talked to a few people about it, so I've been wondering what the response was going to be.
I'm loving the mix of genres on this one.
Yeah, that's really just who I am. The fact is this album became sort of a nostalgia piece. I was thinking back to when I was growing up in my hometown and all the things that influenced me musically over the years. I hadn't really thought about it too much before.

Like everybody else in different parts of the country, I listened to the radio. In those days the only way you got music was to listen to the radio, or buy a record. Those were your options. Well everybody was kind of getting the same stuff. After FM radio kicked in you actually got to hear some blues, more progressive rock, and stuff like that. I had a little bit different experience growing up in the Bay area, and even more different than that, coming from San Jose, California. I mean culturally, San Jose is quite a bit different than San Francisco.

Like a lot of other kids in the 60s, I was kind of a hippie kid, digging that whole counter-culture thing that was going on. But we also had this huge Mexican-American population in San Jose and they were big fans of soul music. They listened to soul almost exclusively. So I got exposed to those two sides, and it made me what I am now – a mixture of soul, rock 'n' roll, and blues. That combination has been in my music ever since my first record.

So 'Stompin' Ground' is more of an intentional nod to that idea. So there you have songs like "Them Changes," and "Further On Down the Road," by Taj. The original songs are a little bit rock, and little bit soul, and a little bit blues. Combined with the covers we did, there it is.
You seem to have brought in specific guest artists to cover all those bases too. You brought up "Them Changes," and David Hidalgo is on that track.
Yeah, David is one of my heroes man. He's so great. I love Los Lobos, and one of the things about that band, is I met all those guys playing on the Blues Cruise together. We hung out and jammed several times, and I could completely relate to them because it just felt so comfortable. They reminded me of cats I knew growing up.

You know for a long time there were different groups of people that didn't really hang out together too much. Then, somewhere along the line in the late 60s and early 70s, everybody started hanging out more together. We'd go to parties, and there'd be a bunch of lowriders there, and a bunch of hippies. I mean kids from all over town would come together because of the music. The music started to blend together, too. Bands like Tower of Power, and War. I'm actually kind of kicking myself for not covering a War tune on this album. That was a big piece right there. Blasting from the stereos, along with Junior Walker, and Wilson Pickett, you'd hear "Slippin' Into Darkness." Then eventually Santana hit the scene and really blew things up. Suddenly we all started to have more things in common. It was a really cool time, ya know?
Did you have a process in picking the other guest artists? I mean you have Hidalgo, but then there's also Danielle Nicole, Charlie Musselwhite, Mike Zito – were you covering all the genre bases?
(Laughs) It really wasn't that calculated. I had been talking to David about doing something together anyway. On my last album, there were no special guests, and that was by design. On this one, I wasn't so worried about how it would sound live, with a four piece band, I just wanted to make a really good record. So I brought in whoever, and whatever seemed to be needed. I try to make a different kind of album each time. For this one, it was time to call on a few special guests.

Charlie is another guy that I had been talking to about doing something together. I thought about doing a real low down, traditional blues album, and he and I had been talking about that. Then when I came up with the song "Live Every Day," I was just like 'wow, this is the song I need Charlie on.'

Danielle Nicole is another good friend of mine whose talent I admire a great deal. We run into each other a lot on the festival scene and on the Blues Cruises. I wanted to do this Delaney and Bonnie song, and she's the first person I thought of. We had done a Trampled Under Foot/Blues Cruise reunion in Kansas City this last July. We did "Soul Shake" together there and it was…it was…fun (laughs) to say the least. Vocally, her and I are a good fit.

Tommy Castro & Mike Zito – Callahan's 2017 – YouTube

Zito happened very spontaneously. When we were working on this album, he happened to be touring right through town. He came to San Jose, he called me up and said, 'Hey man, I'm in town, I'd like to stop by and see you.' I told him I think that's a good idea because I think I have a song for you. We wrote up the lyrics to "Rock Bottom," I threw him on a microphone, plugged him in, and off he went.
So the tour kicks off in just a couple days.
Yes. The first stop is actually a benefit show to raise funds and awareness about housing in San Francisco. The average person is just getting pushed out of town by the high cost of housing. If that happens, this is going to be a very boring town. San Francisco has always been known for being innovative, fresh, wild, and crazy. All the interesting people are getting priced out town, and that's not good. Plus, at that show, I get to Kenny Neal. I haven't seen him in a long time.

The tour really kicks off after that. I mean, it's record release time. I'm really looking forward to it. I'm ready for this next long run – I think. My schedule for about the last three months has been pretty sparse. We made a conscious decision, during Summer festival season, to do festivals on the weekends, and then during the week, we're home. There's always a lot of work to do getting ready for a new release. Then there's booking the tour. Oh, and we're always the backing band on the Legendary Rhythm and Blues Cruise. That's way fun. This year we'll be backing folks like John Nemeth, Vanessa Collier, and Monster Mike Welch. We always look forward to that.
Is this the first record you've recorded at Greaseland?
Oh, yeah. That was also part of a plan that came together. Completely separate from the idea of an album talking about my years coming up in hometown, I had already decided I wanted to work with Kid Andersen. I called him, talked to him about what I had in mind, and remember I wanted to make a strong blues album at that time. When the songs started to come together, it started to take on this theme. Then it dawned on me, we're recoding in San Jose, California as well. That's really when this whole story started to take shape on its own.

But, back to Kid, I knew he'd understand what I was trying to do. There are many state of the art studios right here in my backyard, but I wanted to work with Kid. I really like the records he's been making. Greaseland has that thing – like Muscle Shoals, or any number of places that have that certain something going on. In certain studios there's just something going on that you can't put your finger on. People go in, record, and great shit happens. Kid has that kind of place. I mean in an unlikely place like San Jose, you've got a guy from Norway helping create this great, greasy, blues and soul music. Great things are happening there, and I think it's credited to his individual talent, ears, and instincts. He's a natural record producer. He also played all over this record. Really great rhythm guitar, some bass, keyboards, and even a Middle Eastern instrument called a bouzouki on "Fear is the Enemy."
So even though the concept changed a couple times, it came out right.
It absolutely came out as planned, and I love when that happens.
I know it's like trying to choose a favorite child, but do you have a favorite track on Stompin' Ground?
I'd have to say it's "My Old Neighborhood." I get a feeling every time I hear it. The first few times, I played it for my family members and couple friends, and something definitely happened to me when I heard it back. So yeah, that's my favorite one.
Is there anything folks should know about you, and what you're doing that isn't common knowledge?
A couple of things actually. Number one, my band and I have been together now for a while. The newest members are the keyboard player, Mike Emerson, and our drummer, Bowen Brown. But now that we've been on the road and done a thousand gigs together, we've become a really strong unit. We may add some horns on a particular show, but most of the time it's the four of us. We have a very good chemistry. Playing together so often that instinct takes over, that's what makes a band sound tight. I'm really happy with the combination of players that we have right now.

Photo: Peggy DeRose

The other thing is, just since two years ago when I put out 'Method to My Madness,' I feel that the technology and Internet based tools that we have access to have increased one hundred percent. It just seems like there are so many more things that we need to stay on top of, and participate in, to keep in touch with our audience. Information, promotion, it's all so much more advanced now, and we have to keep up with that in order to get the most bang for our buck as it were. It's not easy. Don't get me wrong, I don't do this all by myself. I have help, but like anyone running any kind of business, I have to be involved in every aspect. I'm directly involved with our social media, as far as content goes. There are certain aspects of Spotify, or Pandora, that I need to be aware of to help move things smoothly along.

I guess what I'm saying is, I'm trying really hard to keep up with these new ways people get their music and information. There are some really cool videos coming out on YouTube and Facebook about the making of the record, the songwriting process, and other things that I think our fans will enjoy. What I'd really like to see is everyone get a Tommy Castro play list on Spotify, or start a station on iTunes Radio or Pandora.

The one thing that's most important though is to not allow the music suffer for it. I'm determined that will never happen with us.
We want to hear from you! Use the comments below to tell us about your favorite Tommy Castro record, what you think of this one, or memories you have of the artist himself. Also, check out our interviews with other great blues, soul, rock, and Americana artists here.