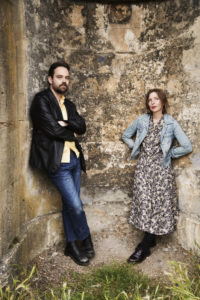 Their sound is Americana, with Delta blues, folk, and country influences. On their new album Five Hours North, out on October 27 on the HATS Music label, House Above The Sun sketch out tales of temptation and redemption on this roots & blues influenced Americana debut album.
"St. Augustine's Blues" is a spacious, beautifully textured example of what Americana is at its best. The vocals melt away and the music carries us to a place that recalls the laid back, animated stylings of The Wallflowers, Gin Blossoms, and early Rolling Stones.
House Above The Sun is Jim Moreton on lead guitar and vocals (as well as piano and keyboards), Ariel Moreton singing and playing acoustic rhythm guitar, Sam Thiery stroking the bass and singing backing vocals, while Rory O'Connor plays the skins.
Regarding "St. Augustine's Blues," Ariel tells us:
Inspired in equal measure by blues and pop, "St. Augustine's Blues" blends Eastern tinged melody with Rolling Stones-influenced guitar interplay. Inspired by the confessions of St Augustine, the song's frantic narrator laments the pain of abandoning a dangerous love affair.
https://soundcloud.com/houseabovethesun/05-st-augustines-blues-1/s-HDjlu
The ten fresh tracks on Five Hours North will seduce old and new fans alike, with their lyrical style recalling a bounty of roots sounds from country to the emotive stirrings of Delta blues and protest folk alongside influences as diverse as Wilco, Kurt Vile, and Lucinda Williams.
To celebrate the release of the new album Five Hours North, House Above The Sun are offering a free download of the track, "Find A Warmer Place" to accompany their debut album which is out Oct 27.