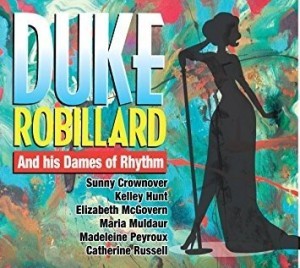 Duke Robillard has been at the forefront of blues, swing, and jazz music for over 40 years. A founder of Roomful of Blues, a member of the Fabulous Thunderbirds, a solo performer, and a sideman for artists that include Bob Dylan, Pinetop Perkins, Eddy Clearwater, Ruth Brown, and scores of others, Robillard's superlative guitar has graced nearly 100 albums. Robillard's most recent release checks off a bucket list item for him. Duke Robillard And his Dames of Rhythm dropped via M.C. Records on October 13th.
Duke Robillard And his Dames of Rhythm takes us back to the jazz, and swing era of the twenties and thirties. Combining Robillard's acoustic, archtop guitar with his own rhythm section, they added some fabulous horns, and brought in a bevy of talented, female guest vocalists. The result is 15 tracks of pure bliss.
"This recording marks a serious bucket list dream come true for me," says Robillard. "I've always loved this period in music and wanted to dig deep into tin pan alley and the American songbook for tunes that weren't too overdone in recent years. Also I wanted the material to be simple, swinging, and bluesy."
The two-time BMA winner and Grammy® nominee hit the jackpot. His own rhythm section is as tight as a hipster's jeans. The horn section, made up of Jon Erik Kellso (trumpet), Billy Novick (clarinet, alto sax), Rich Lataille (alto and tenor sax, clarinet), and Carl Querfurth (trombone), sound as if they stepped straight off the stage from the Cotton Club. Other guests musicians include Mark Earley, playing tenor sax on "Please Don't Talk About Me When I'm Gone," and Andy Stein providing both violin and electric archtop guitar on "Me, Myself and I."
Then, there are the dames. Six incredible songstresses that are featured, individually, on eleven of the tracks.
Sunny Crownover is a jazz and blues singer who honed her chops with the elite of Austin, Texas.  Meeting Robillard in 2008, the two have made guest appearances with one another ever since. Sunny appears on "From Monday On," and the torchy Cole Porter tune, "My Heart Belongs To Daddy." Originally recorded by Mary Martin, Ella Fitzgerald, Eartha Kitt, and Marilyn Monroe, have also intoned the song, but Crownover takes a back seat to none of them.
Kelley Hunt, the Kansas City Americana and Roots R&B singer, who has been making her own music for two decades, steps into three songs with Robillard on this album; "Please Don't Talk About Me When I'm Gone,"  "Lotus Blossom," and "If I Could Be With You (One Hour Tonight)." Her mother sang jazz, and blues, her grandmother sang Gospel in New Orleans, and Hunt cut her teeth on the likes of Mahalia Jackson, Billie Holiday, and Jay McShann. The product is smoky, and brilliant.
Elizabeth McGovern is an Academy Award, Golden Globe, and Emmy nominated actress that we know from movies such as Ragtime, and A Handmaid's Tale, as well as her five year stint on the British Downtown Abbey. On Duke Robillard And his Dames of Rhythm she breaks out some stellar vocals on "Me, Myself and I."
Maria Muldaur has performed rock 'n' roll, folk, blues, jazz, and bluegrass for over 50 years. Besides her hit song, "Midnight at the Oasis," in the early 70s, she's also performed with the Grateful Dead, Jim Kweskin & the Jug Band, Elvin Bishop and many more. The two-time BMA and Grammy® nominee belts out "Got the South in My Soul," and "Was That the Human Thing to Do."

Madeleine Peyroux's vocal style has been compared to that of the late, great Billie Holiday. She began her music career by busking the streets of the Latin Quarter in Paris, France at the age of 15. Her debut album, Dreamland, combined original songs with covers of 20s and 30s hits by Holiday, Bessie Smith, and Fats Waller. That alone made her a shoe-in for this project, but her performances on "Squeeze Me," and "Easy Living," really shine. "Easy Living," once recorded by Lady Day herself, is our choice for favorite track on this release.
Catherine Russell was born sing blues and jazz. Her father was Louis Armstrong's musical director, and her mother held degrees from both Juillard, and the Manhattan School of Music. Catherine is a 2X Grammy® winner for her work with Levon Helm on Electric Dirt, and for her contribution of "Crazy Blues," for the HBO series, Boardwalk Empire. Her smoldering rendition of "Blues in My Heart," on this release is nothing short of dazzling.
This is a must have album for any formal dinner gathering, or a lazy, Sunday afternoon. True early jazz and urban blues aficionados, like us, will play it over and over again. Duke Robillard not only made a tick mark on his bucket list, but made our dreams come true with Duke Robillard And his Dames of Rhythm.
Artist: Duke Robillard
Title: Duke Robillard And his Dames of Rhythm
Label: M. C. Records
Release Date: October 13th, 2017
Running Time: 1:01:55