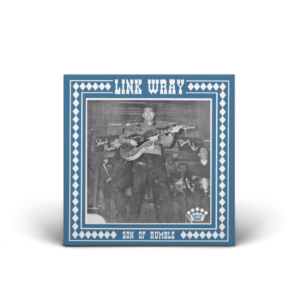 April, 2018 marks the 60th anniversary of Link Wray's "Rumble." An iconic song from a legendary guitarist, "Rumble" changed the face and sound of rock and roll forever by introducing the world to power chords and intentional distortion. In honor of this historic issue, Easy Eye Sound announced that it will release "Son of Rumble," Wray's intended, but never released follow-up to the song. Coming from the Link Wray archives, along with b-side "Whole Lotta Talking," another never heard track, "Son of Rumble" will be released April 13th, 2018 on 7″ vinyl.
"I saw him play in Cleveland at the Grog shop and he blew my mind," said label owner Dan Auerbach. "To get the chance to put out unreleased songs on Easy Eye is amazing and a dream I never thought was possible. It's time we give Link Wray a statue on the top of the rock and roll of fame."
The story of Link Wray sounds like something straight out of a Hollywood movie. In 1937, a boy from the Shawnee Indian tribe was taught guitar by an African American traveling carny named Hambone in the segregated south. In 1953, that boy became a Western Swing musician who played the wake of Hank Williams. By 1956, he was a Korean War veteran who lost a lung to tuberculosis and was told he'd never sing again. Yet, Wray spent the next half-century as the only one-lung singer in rock and roll, and laid the foundation for what the genre would become.
"Rumble had the power to help me say 'fuck it,' I'm going to be a musician." – Iggy Pop
33 years after becoming eligible, this unsung hero of rock and roll is currently a Rock Hall nominee for the Class of 2018, and fans can vote for his inclusion with a daily ballot through December 5th here.
"Rumble" became a flash point for countless musicians including Rock and Roll Hall of Fame inductees Neil Young, Bob Dylan, Pete Townshend, Steven Van Zandt, Jeff Beck, and Elvis Costello. The song was banned in New York, Boston, and Detroit, for fear it would incite juvenile violence, making Wray the only artist in history to have a banned instrumental.
Wray is one of the featured artists in the Sundance award winning "RUMBLE: The Indians Who Rocked the World," a documentary about the profound, essential, and indelible impact Indigenous people have had on American music. The film includes interviews with Auerbach, Taj Mahal, George Clinton, Slash, Steven Tyler, and other notable musicians.