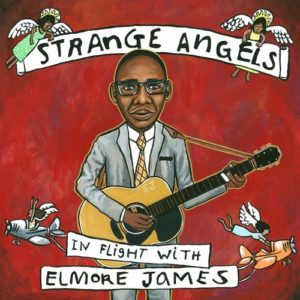 Sylvan Songs Records plans to release Strange Angels: In Flight With Elmore James on January 26th, 2018. The tribute album to the undisputed "King of the Slide Guitar," is timed to what would have been James' 100th birthday. Consisting of 13-tracks, the collection puts James' legendary body of work in the hands of master interpreters from blues, soul, country, pop, and Americana – including Tom Jones, Rodney Crowell, Bettye LaVette, Keb' Mo', Warren Haynes, Billy Gibbons, Shelby Lynne & Allison Moorer, and more.
Strange Angels: In Flight With Elmore James was produced by Marco Giovino, who also plays drums for the band, Elmore's Latest Broomdusters. The bulk of the material was played by this group, which also includes Rick Holmstrom (guitar), Doug Lancio (slide guitar), Rudy Copeland (Hammond B3), Viktor Krauss and Larry Taylor (bass).
Elmore James died at age 45 in 1963 of a heart attack and was therefore never able to fully reap the rewards of the late-60's blues revival. However, his music is a crucial bridge between generations of blues artists – from Robert Johnson (with whom James played) to Muddy Waters, Howlin Wolf and beyond. He pioneered full band electric performances as early as 1939, serving as the bedrock example for generations of musicians.
This tribute album puts iconic James tunes like "Shake Your Moneymaker," "Look on Yonder Wall," and "Person to Person" alongside songs known mainly by James aficionados. While famously a "Triple Threat" – he excelled at songwriting, singing, and guitar – the songs on Strange Angels aim to highlight James' contributions to American music beyond riffs and an amp-at-11 intensity. He left a body of memorable, adaptable songs that can be renewed again and again in surprising ways.
All of the profits from Strange Angels: In Flight With Elmore James will go to MusiCares, who provide resources and attention to human service issues that directly impact the health and welfare of the music community, and Edible Schoolyard NYC, who partner with NYC public schools to provide garden and kitchen classes integrated into the school day.
Strange Angels: In Flight With Elmore James Tracklist:
Can't Stop Lovin' You – Elayna Boynton
Person to Person – Bettye LaVette
Shake Your Money Maker – Rodney Crowell
Done Somebody Wrong – Tom Jones
Mean Mistreatin' Mama – Warren Haynes w/ Billy Gibbons & Mickey Raphael
Dust My Broom – Deborah Bonham
It Hurts Me Too – Jamey Johnson
Strange Angels – Shelby Lynne & Allison Moorer
Look On Yonder Wall – Keb' Mo'
My Bleeding Heart – Mollie Marriott
Hawaiian Boogie – Chuck E. Weiss
Dark and Dreary – Addi McDaniel
Bobby's Rock – Elmore's Latest Broomdusters