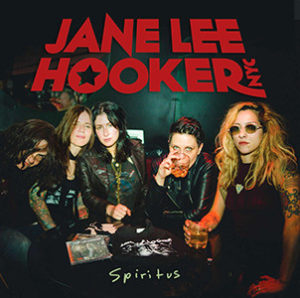 The challenge for blues artists is the perception of authenticity. Stray too far from traditional blues sounds and structures, and you're seen as something other than the blues. This challenge is even harder for young female artists, who often are already seen as inauthentic simply because they're not older men.
Jane Lee Hooker accepts the challenge head-on with Spiritus, their sophomore album, that while rooted in blues and blues-rock, also pushes boundaries with less traditional song structures. Where No B!, their 2016 debut, was a manic and rollicking collection of blues covers, Spiritus features just two, with the rest of the album originals, all of which are rooted in the blues, but which adhere less strictly to its conventions.
The blues sounds are all there. Singer Dana "Danger" Athens has a raspy voice, which while not particularly powerful, conveys emotion. Guitarists Tracy Hightop and Tina "T-Bone" Gorin have classic rock tones that interweave much like the guitars of the Rolling Stones. Where Spiritus veers into new ground is with its songwriting.
For instance, "Gimme That" begins with a bluesy-groove, but releases into a poppy chorus. "Mama Said" is fairly straight-ahead rock with blues licks used to keep the song interesting, much in the spirit of Thin Lizzy. "Ends Meet" is more roots rock than blues, with a big, satisfying chorus. All of these songs spotlight Jane Lee Hooker's collective voice, rather than a mastery of the blues familiar vernacular.
Which isn't to say Spiritus doesn't get into more traditional blues structures. "Black Rat" is a galloping, energetic Big Mama Thornton cover that would have fit right in on No B! but also could be a lost Sweet b-side. "How Bright the Moon" is a standard slow-blues, built on a strong gospel-inspired piano line. "Later On" is another slow blues, albeit one with a contemporary swagger, more Alabama Shakes than "Alabama Blues."
As one might expect, Spiritus experiences some of the traditional pitfalls of a second album–especially one that has a band pushing its songwriting boundaries. Parts of the album don't work lyrically. "How Ya Doing?" works well musically as boogie blues, but doesn't make a larger point other than that stage patter can be pointless. It attempts to parody the banal statements lead singers make from the stage, but instead it merely echoes them without commentary. "Be My Baby" has a positively danceable riff and a powerful melody, but lyrics so trite ("I just want you to be my baby/I just want you to be mine") that one can't help but wonder if it's a failure of sarcasm or imagination.
Spiritus can mean spirit but also breathing, and it's an apt title for the album. Spiritus breathes. There's lots of space, both in the song tempos, but also in the willingness to take chances and push songwriting conventions. Jane Lee Hooker is a band finding its voice, and what makes it a good listen is that for the most part, they're succeeding. As they move from interpreting the blues to creating their own, you can hear an authentic spirit coming through, which makes for a fun and engaging listen.
Spiritus by Jane Lee Hooker
Label: Ruf Records
Release Date: 01.26.18